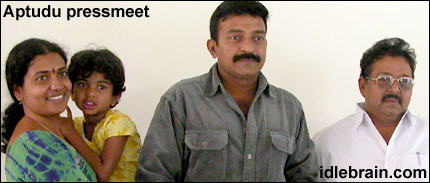 Audio on 8th and movie on 22nd October
Audio of Dr. Raja Sekhar's latest film 'Aptudu' would be released by the honorable CM of AP Dr. YS Raja Sekhara Reddy at 9 am on 8th October at Lake View Guest House. Aditya audio has bought the audio rights. This film would be releasing on 22nd October on the eve of Vijaya Dasami.
The shooting of the entire film is over except for 2 songs. A song each would be canned in Hyderabad and Goa. This film would have six songs scored by Ramana Gogula. Rerecording of the film would be completed by tomorrow. The final mixing is going on. First copy of the film is expected on 15th of this month.
Tailor-made film for me - Raja Sekhar
Speaking on the occasion, hero Raja Sekhar said that it is a tailor-made subject for him. He has been in the film industry as hero for 19 years and he used all his experience to understand what people want from him and made this film to suit the strengths of Rajasekhar and the tastes of his fans. Raja Sekhar said that he worked hard for his film Seshu to give the maximum output as an artist, and his work for Aptudu surpassed the efforts he put for Seshu film. Raja Sekhar said that he is hoping the Aptudu for become a big hit and dole him out of the financial burden he is undergoing through as a producer. He saw the film while rerecording and is immensely satisfied with the output. He is very confident that Aptudu would become a 100-days film. He thanked Ramana Gogula for giving great re-recording. He also felt that Muthyala Subbayya who has done 8 films with him in the past has done a fabulous job.
Raja Sekhar's charity knows no bounds
Dr. Raja Sekhar made sure that he gave something to the society whenever an occasion comes up. This time around, Raja Sekhar would be sponsoring heart surgeries for 10 needy children at Mediciti hospitals. In the process, Mediciti hospital has strategic tie-up with Aptudu film and Raja Sekhar to bring more awareness and funds for the heart surgeries of little kids.