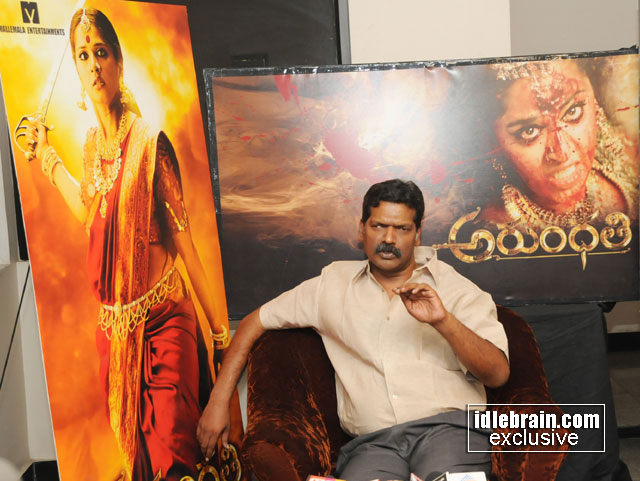 Arundhati film was released yesterday and running with tremendous box office talk. Producer Shyam Prasad Reddy called for a press meet today evening to urge Telugu movie lovers to watch the film in theaters and reject watching pirated CD/DVDs.
Please don't encourage piracy
The main purpose of this press meet to appeal to the Telugu movie lovers not to watch the film on pirated DVD/CDs. It is extremely difficult to make a film like Arundhati and releasing it. And there is hardly 10% success rate in Telugu film industry. And when a film becomes successful 40% of the revenue that should come to producer is going to the pockets of pirates and that money will be used for illegal means by criminals. It is just like a salaried employee working hard for the entire month – when he takes his salary and it vanishes before he reaches his home. I did not sell the film to anybody. I took the risk and ready to take profit/loss.
A pirate from Chennai called me and asked me for an amount of 3 lakhs so that he could make sure that no pirated DVD comes out from Chennai side for the first two weeks. I did not respond to him because I don't want to negotiate with a pirate. It's immoral. It's like giving money to a thief for not robbing our house. It is an insult to the film industry.
Good report on film
I have been getting very good reports from all corners. Almost all members of Telugu film fraternity called me up and congratulated me over the success of Arundhati. It is like displaying solidarity and giving me confidence. We are going to increase 100 more prints from 23 January. We will review the situation on 24 January and increase more if there is further demand.
Dubbing in all prominent languages
Films of this magnitude cannot be made again in other languages. We worked really hard and spent lots of money for Arundhati. We got Nano cameras (specialized in motion control) from Australia. The technicians too came from Australia. I also dubbed Ankusam and Ammoru in Tamil. Both these films grossed in Tamil Nadu as good as they grossed in AP. Tamil dubbed version will be released in February. We will be dubbing this film in Hindi in April.
No A sentiment
People do ask me if I titled the film as 'Arundhati' because most of my successful films' titles start with A. I titled it Arundhati because it is a familiar name as Arundhati star is shown to the married couple. I could have titled the film as Jejemma. But I want the title to be regal hence I titled it as Arundhati.
Arundhati links
• Jeevi Review
• Anushka interview
• Ravi interview
• Wallpapers
• Photo gallery
• Working stills
• Drum song
• Trailers