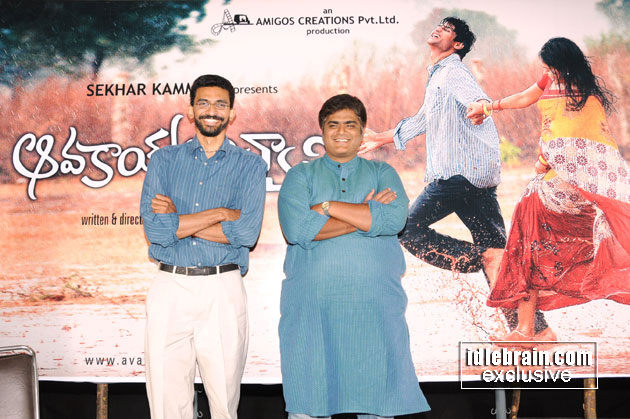 Avakai Biryani, the latest film from the Amigos Creations Private Limited (of Sekhar Kammula), has finished to its shoot and gets ready for its audio release on October 10th, while the screen hit will be in the first week of November. The film stars Kamal Kamaraju and Bindu Madhavi (both debutants) in the lead roles. It is directed by debut director Anish Kurivilla, who earlier worked with Sekhar Kammula as Executive producer, besides doing characters in his films right from Anand. For the first time, a press meet was arranged to detail about the film.
Love story between six-seater driver and pickle selling girl: Sekhar Kammula
Sekhar Kammula said: "Avakai Biryani is the first film from my banner Amigos Creations to come up with a new director Anish Kurivilla, while all the previous ones were directed by me. Though I am the producer, the film has the complete mindset and flavor of Anish. It has the independent theme from him. He grouped his own team of technicians this film. The re-recording is under progress. We are going to release the audio on October 10th. The screen hit will be in the first week of November. Avakai Biryani is a love story between a six-seater audio driver and a pickle selling lass in a village. Entire film was shot in Vikarabad area. We started shooting on March 18th."
I felt like making an Epic: Anish Kuruvilla
Anish Kurivilla said: "I can't say much now other than thanking Sekhar Kammula for the opportunity given to me as director and producing it himself. I can talk more after the audio release. As of now I say Avakai Biryani is a feel good romantic drama, with elements of love and affection. We have introduced entirely a new casting and technicians, including the supporting characters. In fact, it was a very tough schedule for me that we took up shoot in dead summer and in the outdoor. I experienced the film shoot like that of making an epic. I thought of meeting the press at the right time, which I think has come now. I once again thank Sekhar for his belief in me, in the script and my capability as director."
Cast: Kamal Kamaraju & Bindu Madhavi (lead pair); Rao Ramesh, Kameshwara Rao, Praneeth Sanshray, Durgesh, Varun Jonnada (Other actors).
Crew: Producers – Sekhar Kammula & Chandrasekhar Kammula; Story, screenplay & Direction – Anish Kuruvilla; Director of Photography – Shamdat; Music – Manikanth Kadri; Lyrics – Vanamaali; Executive Producer – Bandi Ratna Kumar.
Avakai Biryani links:
Sekhar Kammula interview.
Wallpaper
Photo gallery
Trailers