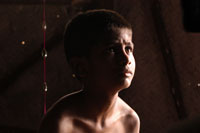 A press meet was held by the unit of 'Belly Full of Dreams' at Media Center in Prasads Multiplex. Producer RaNa Daggubati, director Prakash Kovelamudi, writer JK Bharavi, child actors Sai Kumar and Siva Kumar were present at the occasion. Ramesh Prasad was invited as the chief guest. Senior journalist Prabhu (President of Media Committee for ICFF) anchored the event.
Youngsters like RaNa and Prakash would get professionalism in the industry - Ramesh Prasad
Ramesh Prasad (man behind Prasad Labs and Prasads Multiplex) said, "My father LV Prasad and Prakash Kovelamudi's grandfather K Prakasa Rao were contemporaries. Both of them worked together for the film Drohi. It's nice to see Prakash Kovelamudi venturing into film direction. He also got nice infrastructure and good background in film industry. I wish him a long and successful innings as film director. I am also closely associated with RaNa's grandfather Dr. Rama Naidu. His father Suresh Babu involves himself in each and every aspect of filmmaking. I can see professional approach in these two youngsters. Youngsters like these get new professional approach in film industry. There are certain films that are doing extremely well in multiplexes. Hanuman is the latest film that's doing well in multiplexes across India. Doing children's film is very difficult as it needs lots of patience and understanding. I congratulate the entire unit of Belly Full of Dreams for making such a good film."
All my films are going to be honest films - Prakash Kovelamudi
Director Prakash Kovelamudi said, "With the guidance of people in Telugu film industry, we could able to do such a nice film. This film would be released soon in Telugu as 'Bommalata'. We tried to do some message oriented film that shows how difficult it is for an underprivileged child to attend school. We have also shown how the entire world conspires to help you when you follow your dream. We used the backdrop of puppetry to give the outside perspective. I do not have any criteria in making films. I would be doing both commercial and different films provided I like the subject. All my films are going o be honest film. My experience of acting in two films helped in understanding the technique of story telling. The story given by JK Bharavi drove me to make my debut as film director."
This is the most emotional project in my life - RaNa Daggubati
Producer RaNa Daggubati said, "I would like to thank K Raghavendra Rao, D Rama Naidu and the entire team of Belly Full of Dreams. This is the most emotional project in my life. This picture came out really perfect. The kids in this film delivered fantastic work. It took 40 days to shoot this film and two months for postproduction. It cost us around 1.3 crores to make this film."
Street kids have amazing abilities - JK Bharavi
Writer JK Bharavi said, "This idea formed 18 years back when my nephew Krishna asked me what problem a rag picker needs to face when he wants to attend school. We did lots of research on this subject. I talked to lots of street children. It is devastating to see street kids getting addicted to pan parag, cigarettes and ink remover (whitener). At the same time, these street kids have amazing IQ, lots of guts and tremendous intelligence. When I narrated this story to K Raghavendra Rao, he got so emotional that he cried. I would do lot many subjects for children's films in the future."
Child actor Sai Kumar said that this film teaches the street kids how to go to school. His aim in life is to study well and become a film actor.
Another child actor Siva Kumar said that BFD is a great subject. He is studying his 8th standard at Chinmaya Vidyalaya.
Belly Full of Dreams Links:
Premiere show of BFD
Photo Gallery
Synopsis & Profiles