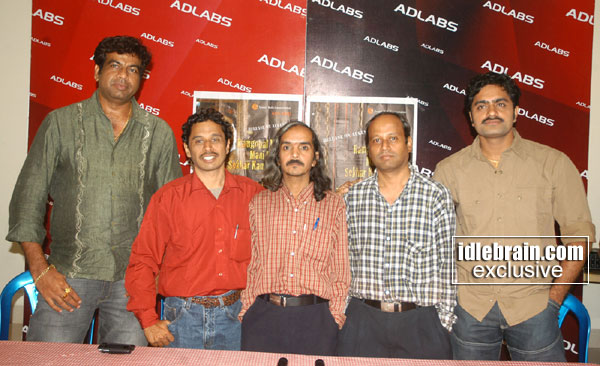 Cell – a genre called Shock
Cell, an Adlabs release, is going to hit 15 theatres with 12 prints on August 15th. Produced on Sravani Media Communications, the film is a crime thriller, which the director wants to categorize into a special genre called "Shock". The film stars popular TV artistes Prabhakar, Sameer, Nanda Kishore and others. It has no lady character. A press briefing was arranged this evening at Adlabs, Hyderabad.
Cell, a new meaning to Suspense thrillers
Venkatanarayana, an SBI official who is producing and directing the film, said: "Just like Ramgopal Varma, Manirathnam and Sekhar Kammula, I too have tried a new subject with new screenplay and direction. It has five important elements – Artistes performance, Cinematography, story, screenplay and direction. Definitely, Cell is going to unfold a new meaning in the arena of Tollywood's suspense entertainers. The film begins with the climax – a bank robbery scene and ends with the same. We completely believe and have no doubts as we take it for granted – that Cell is going to generate massive mouth publicity. Content is the king. The moment when Adlabs took this film for release, it speaks volumes about its destined success."
An escape from monotony
Nanda Kishore, who played a vital role, said: "Telugu audiences are known for their big support to new themes and new experiments. Cell will prove that it is a really a special entertainer, away from monotony."
Come to get totally shocked
Cinematographer Sd. Jaan said: "Director Venkatanarayana narrated me this subject with pinpoint clarity. There are no songs, no dances and no big stunts. When I took up this project, I was very much concerned about the budget constraints and it required much creativity. Yet, everything will look natural. We have worked out on four different shades in the film. The audience will come out of the theatres – totally shocked."
Sound is a character
Music brothers Mahi-Sridhar said: "There is no unnecessary music in this film in any frame. Each and every sound is important for the story. Sound is part of the subject. So, we carefully dealt with this aspect. Sound is like a character in this film."