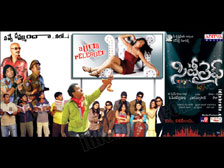 City Life, the film starring RK in the lead role, is in its last leg of shoot. Currently, a left out song sequence – Om Vatsayanay – is under canning on Pooja Bharati at Karunamayudu Studios, Pragati Nagar, Kukatpally, Hyderabad. A media briefing was arranged today at the venue. Made on Perfect Visuals banner, the film is going to release in September.
Old City Vs Hi-tech City
Director Saudha said: "We are happy to announce that our film's shoot is going to be finished with this song (currently under canning). True to the title City Life, the film will present the situations in urban life. It is a contrast between the Old city and Hi-tech city in Hyderabad. How the concept of globalization influenced a city goon is the crux of the film with full length humor. The tagline – Navve Dammunda Meelo! – is vey much apt. Our audio is highly successful and currently remains at the fourth place. We are sure that the film would also be a blockbuster. Though City Life is based on Hyderabad life, it has universality in the subject."
Decent Kamasutra bhangimas
"This song – Om Vatsayana – has all the sensual energy. Vatsayana is not an ordinary man. His research into sexology is known to the world. Without any vulgarity, we wanted to give a classic touch to this song, which depicts various bhangimas (postures) in tune with Kamasutra," he said.
Producer Venkateswara Rao said: "City Life is an entertainer for all sections of the audiences. Comedy is its lifeline. We are planning to release the film next month."