While the nominees for the 57 th Idea Filmfare Awards 2009 – South were announced at an earlier press conference held in Chennai on July 7 th, 2010, the winners are yet to be decided. With just 3 weeks to go frenetic activities are on to make the event an exciting and promising affair for the industry and the filmi buffs alike.
The immensely popular Filmfare Awards functions have always been the essence of glitz and glamour and have awarded the best in the industry for many decades. The 57 th Idea Filmfare Awards (South) celebrates the immense talent in the southern industry and also bring great entertainment to you, this year as well. From star celebrities walking the red carpet in their gorgeous attire, foot tapping performances to the suspense winners of the evening, it promises to be an exciting evening.
As always, this year too, people were invited to vote for their favourites across 10 categories each, in Tamil, Telugu, Kannada and Malayalam films. Nominees have been selected through the public voting process that Filmfare is known for and specially appointed juries have now been set up to help choose the final winners.
Jitesh Pillai, Editor - Filmfare said "I'm privileged in the sense that I Grew up watching greats like Amitabh Bachchan and Mohanlal wield their magic onscreen – and it gives me great pleasure in continuing to carry the torch of the great tradition that is the Filmfare Awards. The South Awards are a counterpoint to the North, celebrating the achievements of some of the country's best actors and technicians. They also give voice to the fact that for Filmfare, cinema isn't just confined to the Hindi heartland but is a pan-Indian experience".
Speaking on the occasion, Mr.Subbaraman Iyer, Chief Operating Office – Andhra Pradesh, IDEA Cellular said, "Idea has always endeavoured to add more value in our communication offering to over 68 millions mobile subscribers in the country. Cinema and Music is at the core of Brand Idea's customer connect strategy and we have always used these genres to entertain and delight our customers. With the 57 th Idea Filmfare Awards – South, Idea subscribers will once again get access to enriched content and real-life experience of the best of South Indian Cinema".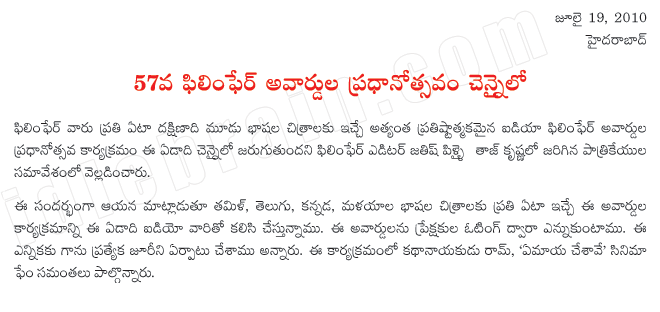 Photo Gallery (photos by G Narasaiah)