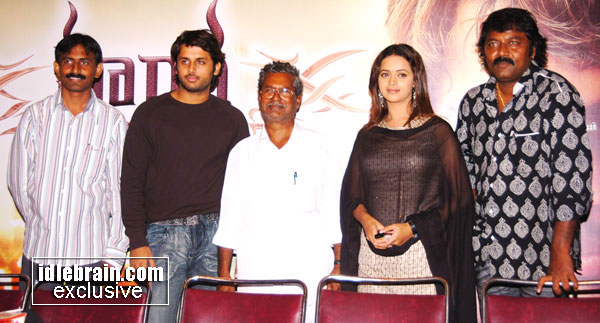 The logo of Nitin-Bhavana starrer with its title as Hero is launched tonight at Hampi Restaurant, Jubilee Hills, Hyderabad. The film made on Manyam Entertainments has completed the shoot of talkie part and gets ready for the Swiss schedule for canning of songs. Popular screen baddie and fighter Sudhakar Naidu alias GV makes his debut as director with this "Stylish film". Manyam Ramesh is the producer. A media briefing was held on this occasion. Earlier, the logo was unveiled by senior film journalist Pasupuleti Rama Rao.
Style is not Bollywood's monopoly: Nitin
Nitin said: "The shoot is going fast. Of course, there were some little skirmishes on the sets, but altogether we all enjoyed doing the film. After Style, I am going appear in a stylish manner with a new hairstyle, motorbike, tattoo and other aspects. While making this stylized film, there was one question with me and GV – Why should there be such films only in Bollywood? Why not in Tollywood? GV showed me acting all the vital scenes in the film, making me very comfortable on the sets. My special thanks to Brahmanandam garu. You are going to have superb comedy from him, after a Dhee, Krishna and Ready. Sometimes I failed to control my laughter watching Brahmanandam garu doing the scenes."
I am energy personified: Bhavana
Bhavana said: "I play the role of heroine – the role of Krishnaveni. You will see me walking agile, talking fine, performing profoundly. The film will have fine entertainment with hilarious comedy. I wish best of luck to GV garu, my costar Nitin and the entire team."
Director rejected my costumes: Satyam Rajesh
Satyam Rajesh said: "The producer took great care in each and everything. When I was asked to do this film, I suspected – What can a fighter and villain like GV do? But, he failed my calculations. I found him making excellent takings as if he were a highly experienced director. That ease, commitment and seriousness on his part made me look at him with admiration. There were times when he rejected doing scenes with me when he didn't like my costumes. This shows his diehard devotion to the script. Bhavana is a very beautiful girl, with beautiful eyes. There is a scene showing her drunk. You will then judge her power of performance."
Dream of direction out of frustration: GV
GV said: "You all know me all these years as villain and fighter on the screen. Eight years ago, due to some untold reasons I kept myself aloof from the films completely for a year. When I made my re-entry, the media supported me like anything. I shall always be grateful to my media friends and brothers. Though I acted in more than 150 films, not only in Telugu but all over the South, why didn't I become a big villain? What is lacking in me? These questions dogged my mind for several years. Frustration gripped me. I thought of myself as even a bigger villain. For that I need a hero to equally match my ruthlessness with his performance. I also need an energetic heroine for such a naughty hero. Whenever my thoughts filled with these characters, I used to take notes. The note which I prepared all these years has now turned into the script for Hero. I am thankful to Manyam Ramesh garu for his belief in me as a director. There are several young directors who exactly don't know how to say – Action and Cut. What about me? But, my producer trusted me. I will never come down his expectations. Nitin is the right person to act in this youthful film, I thought. I think it is contextual to mention. There are several heroes who don't get up from their seats when their senior directors approach them. They don't even wish them. Nitin is a rare kind of a hero, who respects the elders. The entire project was ratified within two days. I went to Kerala to narrate the script to Bhavana, who readily said ok to the film. She is doing multi-shaded role, notably with seven shades. Though I could produce a film myself, I couldn't do this. I wanted somebody to recognize me as a person who can direct. Manyam Ramesh garu did that. I am thankful to him for giving me a great music director like Mani Sharma, cinematographer and my friend Ram Prasad, Editor Marthand K. Venkatesh, art director Anand Sai and stunts master Kanal Kannan. We are planning to release the film in October."
Manyam Ramesh said: "Hero is the result of team work with its captain as GV. You know that I worked with senior heroes and big directors. Coming to this film, it is handled by GV with a wonderful and incredible script. Moreover, for the first time, I am doing a film with 'outside hero' Nitin. He is the hero coming from other than my circle. He is a cool, young hero for this project. GV is well-known to all as a villain. But, as he moved mostly with heroes and big artistes (who played villains); he is not closer to the industry people in general. When I heard the script from him, it was stupendous and I immediately ok to the project. When we thought of taking Bhavana, her debut film here – Ontari – was not yet released. She has an equal role on par with the hero. Most of my films had the shooting schedules running into more than 100 days. But, with extraordinary cooperation from one and all and pucca directorial planning of GV, we finished it so early, and now are on the job of songs and climax."
Nagababu said: "When Manyam Ramesh told me to a role, besides telling me that it is GV who is directing the flick, I was shocked. I didn't believe it. But, later, I came to know that GV is not only a good screen villain, but a very good writer and director with extraordinary visual sense. He is also a 'veerabhinani" of Annayya (Chiru). I wish him all the best. I am confident that he will be one of the good directors who can make mass entertainments in our industry. I am doing the role as hero's dad."
Cast includes: Ramya Krishna, Kovai Sarala, Tanu Roy, Kota, Brahmanandam, Babu Mohan, Ali, Narsing Yadav.
Crew: Story, screenplay and Direction – Sudhakar Naidu (GV); Music – Mani Sharma; Cinematography – Ram Prasad; Editor – Marthand K. Venkatesh; Stunts – Kannal Kannan; Lyrics – Anant Sriram, Bhaskara Batla; Art – Anand Sai.