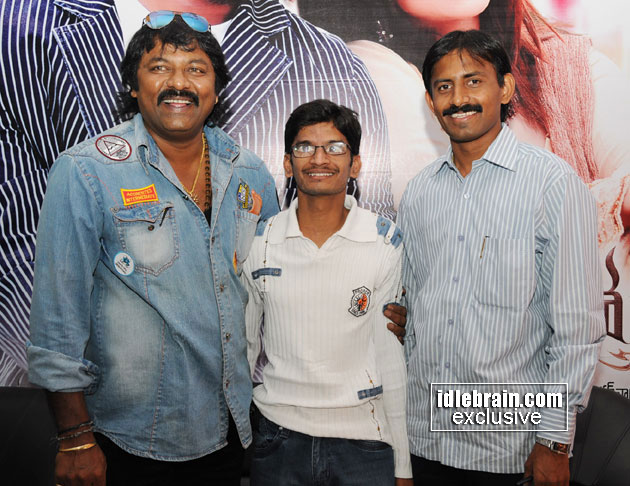 Hero, the film starring Nitin and Bhavana in the lead roles, is set for release all over the world on October 23rd. Manyam Entertainments is making this film with fighter GV Sudhakar Naidu (GV) turning director with this film. Manyam Ramesh is the producer. A press meet was held in Hyderabad to detail about the film.
Anant Sriram (Lyricist) said: "There are five songs in the film. I penned four lyrics. The lyric about Yahoo Messenger will reflect the mindset of the director. He is a very creative person. I thank all the Telugu people who patronized this album very much. I hope they will also respond with equal zeal for the movie also."
Manyam Ramesh (producer) said: "In fact, I never expected that the music of this film will get great response like this. I am thankful to producer Ramesh for providing us Mani Sharma as the music director. He scored excellent melody. Everybody will like the fusion song. The film is going to release on October 23."
GV Sudhakar Naidu (director) said: "This is my debut film as director. Manisharma's music and Anant Sriram's lyrics have come out extraordinarily. I am thankful to Manyam Ramesh for giving me Mani Sharma garu as music director. All the songs are going to be very situational in the film. Ramesh also spent very liberally and didn't bother about the budget, but for the quality. I hope the audience will also give big support to the film also."
Cast: Ramya Krishna, Nagababu, Kovai Sarala, Tanu Roy, Kota, Brahmanandam, Babu Mohan, Ali, Narsing Yadav.
Crew: Story, screenplay and Direction – Sudhakar Naidu (GV); Music – Mani Sharma; Cinematography – Ram Prasad; Editor – Marthand K. Venkatesh; Stunts – Kannal Kannan; Lyrics – Anant Sriram, Bhaskara Batla; Art – Anand Sai.