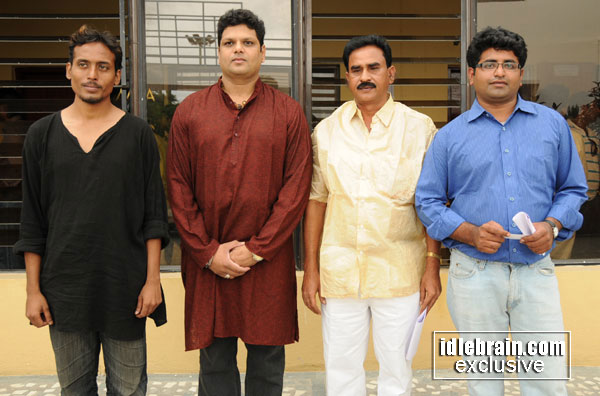 Hitler – The Indian Connection, a Telugu movie projected as being shot with "anti-fascist" views, is getting ready for theatrical release all over the state in a couple of weeks. Made on Sivasai Productions banner, it is produced by B. Srinivasa Reddy and direction is by Revanth Po Reddy. The uncensored version of the film was today screened to the media at the preview theatre, Film Chamber, Hyderabad, followed by a media briefing.
Reventh Po Reddy (story and direction) said: "This is a low-budget film shot with full of zeal to create a trend in Telugu film industry. Just this is a small idea of mine – against the fascist trends that we can see in our Telugu film industry. We took this film not for any commercial gains. Some people will understand the undercurrent point in the film and some don't. Some people aired out doubts that the film is about some political party or some film personality. But, it is not like that. This is just an idea and we don't intend to malign any person, group of party. The film will be releasing in a couple of weeks after censor."
B. Srinivasa Reddy said: "We are happy that we could produce this film with an objective – to create awareness among the people against the fascist signs. We hope our message will reach a good number of people. Generally, we can't expect everybody to understand and patronage this film. Even if it be a very small segment of audience, we will be happy and we think our efforts have been fulfilled."
EMS Sujeeth Shankar (grandson of EMS Namboodripad), who played the male lead juxtaposing Surya (as an actor-turned politician) said: "I am delighted that we finished the film shoot on time and it gets ready for release. I am excited to be part of Tollywood. Director Revanth explained me the subject and I found that there is a message imbibed in it. We hope the same message will reach the maximum number of people."