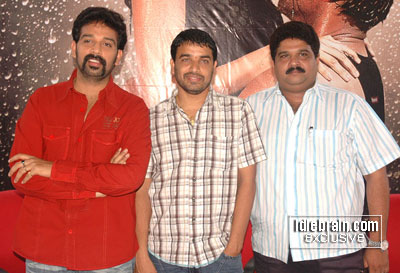 JD Chekravarty's directorial debut Homam, starring Jagapati Babu and Mamta Mohandas, is going to finish its censor process on August 21 and release is set on August 28th. The film is made on Shreya Productions. Director JD Chekravarthy, producer Kiran Kumar Koneru and distributor Dil Raju (of Sree Venkateswara Creations) today held media briefing at the production office, Film Nagar Hyderabad.
Censor on 21st; Release on 28th
Dil Raju said: "I have been a happy man in recent months. After releasing Sekhar Kammula's blockbuster Happy Days through my distribution network, I recently took up Ullasanga Utsahanga, which is doing well. Now, I am confident of Homam, which I am releasing all over AP. When I saw the double positive of the film, I couldn't resist myself. The film was wonderful. The movie is going for censor on August 21 and the release is set on August 28th, as we have thought earlier."
Homam Audio CD to Ullasanga Utsahanga audience
"Other than Chakri's superb direction, he also scored jointly with Nitin. I found a new concept in the film's music. Out of my excitement, I want to take the music to the ears of maximum number of audience before they come to theatres to watch Homam on August 28th. In all the theatres in AP showing Ullasanga Utsahanga, we are going to present one audio CD of Homam to one out of every ten audiences who purchase the tickets. Personally I liked four songs in the film. Though the film has the title as Homam, the music will also be romantic. Chakri's direction sounds very commercial," Dil Raju added.
Love, Romance and Music also
JD Chakri said: "I already told my three levels of satisfaction during my previous media interaction. Let me repeat it now. 1) Producer's confidence in the film 2) Ramgopal Varma's appreciation and 3) Dil Raju's release. Dil Raju earlier thought that Homam was a complete action film, but after seeing the film he changed his opinion and expressed his admiration for the film. He said the film houses in the elements of love, romance and music as well."
Homam premiere in Vijayawada on 27th
Producer Kiran Kumar Koneru said: "The premiere of Homam will be held on August 27th at INOX, Vijayawada. It is not for guests, near or dear. It is purely for the common audiences of Vijayawada. The next day, it will release all over the state."