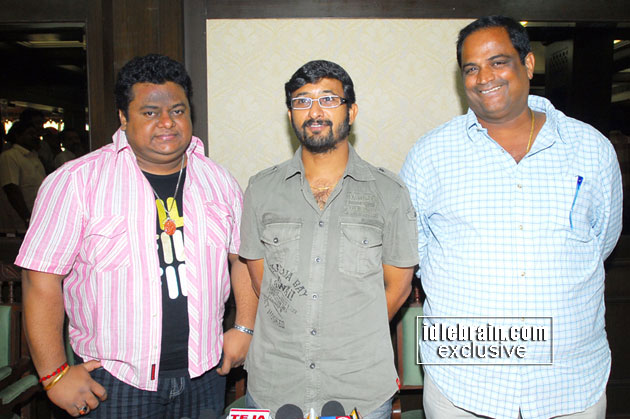 Teja, who authored the trendsetting youthful entertainers in Tollywood, is ready with his latest film Kayka with its release planned on October 1st with more than 150 prints all over the state. Made on Chitram Movies banner after a gap of five years, Kayka has the cast of 36 debutants. Chakri scores music for Teja's film for the first time. The first media briefing about Kayka was held this morning at Hampi Restaurant, Hyderabad.
Comedy, Love and Tension in Kayka: Teja
Teja said: "After five years, Kayka is made on Chitram Movies banner. I also took a gap of more than two years. Better I say, I stopped direction for two years. I went into introspection. What went wrong with me? What is right and what is wrong? If I do films, will they click? Somewhere, my graph is missing. So, I made a careful workout. The result is this Kayka, with a mix of comedy, love and tension. There are three important aspects in this film – Screenplay, Music and Cinematography."
Screenplay Concept
"Without my knowledge, I found myself going in a formulaic mold. Somebody said the folk song was nice. I put that song. Somebody said about some particular fight and the same stunt was retained in the next film. Now, I rejected taking these formulaic suggestions. I broke the shell and came out of it. This Kayka is scripted on the lines of a new concept. I call this – Screenplay concept. It will like this. Seeing each frame, the audience gets surprised. Immediately, they say, 'Oh! This we are familiar with!' It is a dilly-dally type screenplay. Some of the films I made before the gap were bad. I myself had not seen them. I took every care not to be myself in this film. Let us say – it is nobody's style movie."
Music doesn't belong to me or Chakri
"You have fantastic music. I wanted the music director to match me. At the same time, I wanted Chakri not be himself, and not to be myself. For the first time, you will see altogether a new Chakri. I don't think movies will run based on its audio release. So, I don't give much importance to this aspect. Do you think movies will run with audios? No. Of course, I feel like releasing the audio through FM radios. Let us see what happens. Even if we release the audio, we are not going to get any huge money. Some trailers on the websites brought tremendous response. Chakri is a wonderful person and a very good human being. But, I tortured him for the best output."
Impossible with mental people like you
"When I thought of famed cinematographer PC Sriram for Kayka, some people said, 'You are a mental, and that man is a mental. Film in your combination is impossible.' At this point, I decided to proceed with none with PC Sriram only. Sriram's approach to Kakya is thoroughly professional and I don't need to say much about him. I am happy that he was delight at the script and while doing his job."
"The title Kayka has nothing to do with the film. Just for attraction, it put it that way. In Jayam film, the audience found the repeated utterance of the word: Jayam. Like that, the word Kayka will be uttered at right moments," Teja added.
Big scope for melody and RR: Chakri
Chakri said: "This is my first film with Teja. Since several years, I always wanted to do a film with him. I got on to the dream this year. Almost all the audio of Teja's films are chartbusters. For Kayka, he wanted me to score a completely new music. Listening to the script, I found there is immense scope for melody in the songs and rerecording. I was careful not be compulsorily commercial in my tunes. This is a new experience. I seriously spent a lot of time on this project sitting in the resorts on the outskirts. Despite his busy schedules with this film, Teja used to spend some time with me. This way intimacy developed between us. Of the six songs plus one background song, there is a pub song with fast beats. Lot of importance is given to melody. PC Sriram's cinematography enhances the richness of my music."
Dhrisya Kavyam & New Experience
Kethireddy Jagadeeshwar Reddy, Executive Producer, said: "This is my fifth film. We are planning to release on October 1st with more than 150 prints. Kayka has got tremendous technical values on the lines of Teja's previous films Chitram, Nijam and Nuvvu Nenu. Even, this will surpass them. It is Dhrisya Kavyam and new experience to the audiences."