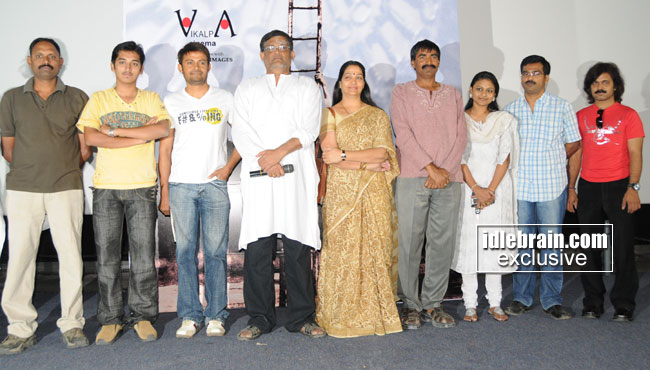 Tanikella Bharani directed a short film titled 'Key' with Shafi, Jayalalitha and Bhargav Mohan in the main leads. Actress Jayalalitha produced this short film on Vikalpa Cinema banner.
Tanikella Bharani screened this film to press and shared his feelings along with the unit.
Speaking on the occasion Tanikella Bharani said, "This film is on suicides. People have tendency to resort to suicide for silly reasons. This film shows what would happen if a man faces death."
Actor Shafi said, "Key is a realistic fantasy. Tanikella Bharani's Seera won three awards. I am sure that this film too will win many more awards."
Actress and producer Jayalalitha said, "I produced this film for artistic satisfaction. I also acted in this film. This film is my first venture as a producer. I would like to thank director and cast n crew members for their help."
Synopsys of Key:
Death will knock our door. The time will come riding on seconds, minutes and hours. Key is a story about frustrated and confused youth who cannot distinguish the difference between the ladder which takes us up when it stands erect and when it laid down it carries the dead. With a lot of turbulence in the soul, he wants to leave this useless world and die. We don't feel responsible for the donkey, the society. Beautiful childhood, wonderful music are old memories.
He wants to embrace death. When he wanted to die without any fear, personified death appeared before him. He was so beautiful and enchanting. He realizes the value of life and comes to know the truth. The death is always with us. He is worried about loss of the 'Key' to his glorious past. The new experience with death makes him realize that the key to happiness is in depths of his self. And he looks to life with new found optimism.
You can't date the death. The final choice is with the death. It comes when it wants to come.
One life is far better than thousand deaths.
Key links:
• Photo Gallery