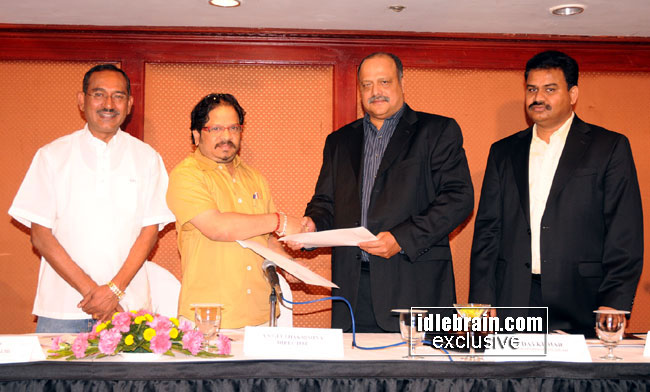 Geeta Krishna's Koffi Bar film is going to be distributed by Adlabs in USA. This film will be shot in Red digital camera. Geeta Krishna arranged a press meet today at Taj Banjara to announce the same. This press meet is attended by Uday Kumar (head of operations, Adlabs Inc USA), Raman Sanchula (Business Development Manager, Adlabs, USA) and Basireddy (Digiquest).
Speaking on the occasion Uday Kumar said, "Telugu films have lots of potential in USA. Adlabs is empowering the producers regarding overseas market with increased revenue streams. Though there are 30000 theaters in USA, Telugu films are being played by dilapidated theaters till Adlabs entered USA exhibition market. We are also bringing the digital revolution for Telugu films in USA. We have theaters in 11 major cities of USA where Telugu films are screened. We are also helping out with independent filmmakers by giving Adlabs as a platform for exhibiting their films. We are providing complete transparency and win-to-win situation for the producers of Telugu cinema without proposition. Koffi Bar film belongs to the category of films which we love to get associated with."
Koffi Bar is a social film with thrilling elements –Geeta Krishna
Filmmaker Geeta Krishna said, "Currently we are busy doing the preproduction work and we are going to announce the casting of the film very soon. My films have always dealt with love and a burning social issue. There would be lots of customers a coffee shop who are from different walks of lives. There could be painters, writers, engineers, students as well as criminals. Koffi Bar is a social film with thrilling elements. I would like to thank Uday and Raman for supporting our project."
Cinematographer Murali said, "I belong to New Jersey and I completed my filmmaking course in NY film academy. I watched Jessica Alba's film Eye in the last year and realized that a similar film was already made by Geeta Krishna as kokila around 20 years back. When Geeta Krishna asked me to work for Koffi Bar, I was delighted to get associated with him. We are using Red digital camera and it gives four times more powerful output than that of super 16 camera. Red camera is also being used for the 'The Book of Eli' starring Danzel Washington now."
Basireddy of Digiquest explained the advantages of using digital camera and digital projection systems.
Koffi Bar links:
• Announcement