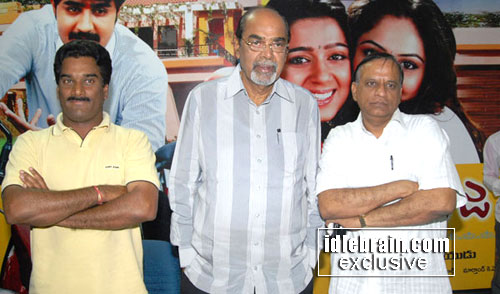 But for a lone song number, the shoot of Kausaulya Supraja Rama (starring Srikanth, Charmme, Sivaji and Gowri Mumjal) is complete. The film is set for release early September. Music (by Koti) will be launched by month end. Produced by D. Ramanaidu, directed by Surya Prasad, the film comes as a simultaneous project on Suresh Productions banner (the other being Ravi Teja's Baladoor). A press briefing was held this evening at Ramanaidu Studios, Hyderabad.
New variety film: Ramanaidu
Ramanaidu said: "This is definitely a 'new variety' film. I thoroughly observed the making of the film; I knew its script and the commitment of my artistes and crew. I have a big satisfaction that Kausalya Supraja Rama is going to provide an wholesome family entertainer. If we have no success in film industry, no body will say hello or hai and no there will be no respect. We are planning audio release by month end and the screen hit next month. All the artistes worked well without suffering from any ego problems."
Srikanth's goodness & Sivaji's suspense
Director Surya Prasad said: "We launched the movie on Ugadi Day in April. The regular shoot commenced form May 2nd, followed by steady schedules. The remaining song would be finished over a three-day schedule in this month. I am thankful to Naidu garu for all his cooperation. He always reminded me that we should win the race as a horse emerging from Suresh Productions. His greatness is that he never questioned about anything all through this film shoot." Replying to a question he said: "Srikanth plays the role of a Good Samaritan, who would not tolerate the suffering of his fellowmen. Similarly, Sivaji plays a vital role in the film and the suspense factor continuously dangles on his characterization. Superb comedy and good music are additional strengths."
Dialogue writer Satyanand said: "I don't need to elaborate much on this film. It is for the people to judge it. I will speak at the right time after the film release."