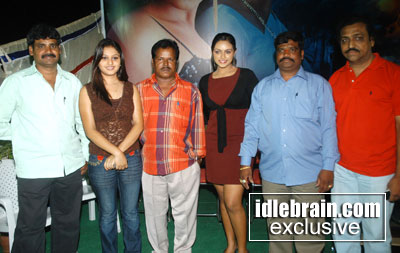 Kshudra is a latest horror film made on a newly-floated Spectrum Creations banner. It stars two smalltime Kannada actresses Priyanka and Ramya in the lead roles. The flick has story, screenplay and direction are by Nagul, who worked as production manager for several films in Telugu. Sayyad Khaja and A. Manik Prabhu are debut producers. The cast consists of Jeeva, Jeevi, Surya, Ali, MS Narayana, Kondavalasa, Kavali Satyam, Jayavani, Sunaina, Vikram, Madhu, Venu, Jayarao and Anu Vaishnavi, mostly new faces. Sivajiraja from Kollywood is roped in as music director. The film's title launch and press meet were organized on the premises of the production house, at the city outskirts on Wednesday night. The film is set for release by June end, with plans to release the music next week.
Priyanka said she was thrilled to do a horror film in Tollywood. "I earlier worked as heroine in Kannada. Audiences are going to have the much-required entertainment in the film, thanks to the slick direction of Nagul and trendy choreography of Premalatha. I am hopeful of a big break here with this film."
Another Bangalore girl Ramya said: "I heard a lot about Tollywood. I find it very comfortable working here. This kind of atmosphere will help new comers like me to get trained as professional artistes."
Nagul said: "Kshudra akin to the title is a movie on devil. I want the film to be a superb thriller. If the movie is really good, it will definitely run. I am so confident. Highlight is that though it's a horror film, elements of comedy and sentiment also are there. Characterization of a devil will thrill all. Ninety percent of the shoot is over. We are readying for songs canning." He claimed that the audience had lost interest in the routine love stories. History of horror films in any language would project a safe picture for the producers. "I think I succeeded in this aspect," he said.