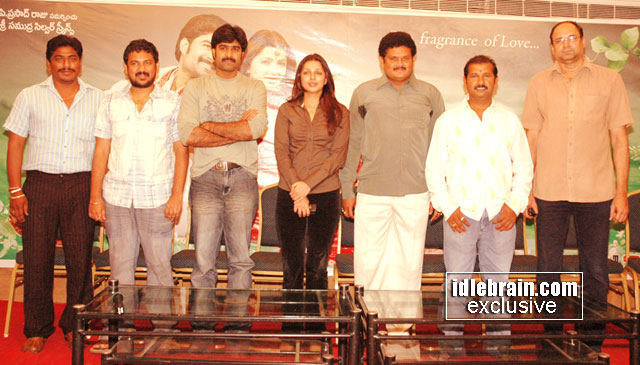 V. Samudra-directed romantic film Mallepuvvu is going to hit the marquee on September 18. The film made on Samudra Silver Screen stars Bhumika and Muralikrishna (debutant). Mohan Vadlapatla is the producer. Story is by Ramesh Varma. A press meet was today organized at FNCC, Film Nagar, Hyderabad.
Samudra said: "We are happy to announce that the film is releasing on September 18th all over the world. The songs with music scored by Ilayaraja have become chartbusters. I am thankful to Ramesh Varma for giving this extraordinary romantic subject to me; and to Mohan Vadlapatla for imposing confidence in me; and to Ilayaraja garu for his great music. All these days, I am known as a mass director, but this film will also get me a name as a director who can deal with a variety of subjects."
Mohan Vadlapatla said: "When I heard the subject, I completely believed that Mallepuvvu deserved to bag the National Award. Actually, Bhumika ought to have dubbed her voice, but didn't due to preoccupied schedules. Later, I came to know that dubbing by other voice is not a constraint for winning the national award. Though Muralikrishna is a debutant, he showed superb growth in his performance as an actor opposite highly acclaimed actress like Bhumika."
Bhumika said: "It is a beautiful film. It is a great honor to me working with Samudra. I wish to act in his films again and again. The cinematography is excellent in the film. Hero Muralikrishna performed with all ease and naturally."
Murali Krishna said: "Four years ago, Ramesh Varma promised to me that he would make me the hero with this film. Again a couple of years ago, director Samudra told me that he would me take me as hero in his film. It happened at Annavaram temple. I am happy that it became a reality. There were instances when some producers expressed their reservations to consider me as hero. I am thankful to producer for his good gesture for me. I specially thank Bhumika garu."
Ramesh Varma (Story) said: "Mallepuvvu is like my child, whom I caressed with all love for the last four years. I handed it over to Samudra and I hope he brought it up with great care. Highlight of the film is that it is with complete Telugu nativity."