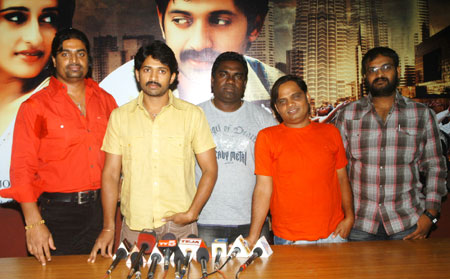 Sashank, who mostly played the second fiddle in films like Sye and latest Victory, is excited about his solo as full-fledged hero in Production No. 1 of Meschek Movies banner. Produced by Dubai-based Keralite businessman John Baptist and directed by debutant Srinivas Bhalla, it has music by popular Malayalam composer Mohan Sitara. The unit members today arranged a press meet to appraise the film's progress.
Eager to do my 100 percent: Sashank
Hero Sashank said: "Though I have been playing good roles in the films, several people are asking me as to when I would be making the full-fledged hero roles with regular dances and stunts. With this film, I am going to achieve my goal. My characterization is going have subtle shades. Already three songs were and the major portion of the talkie is done. We enjoyed canning of songs in Malaysia. I have the opportunity to prove my mettle by cent percent. My characterization is that of a village youth, who comes to city in search of a settlement for his life. Whether he achieved it or not; if yes, how? If forms the main storyline."
Duvvasi Mohan, who plays a vital role, said: "Producer John Baptist is a complete alien to Telugu field, but he imposed a lot of faith on all of us. We will be doing complete justice to his belief. I played the role of a servant to a rich man Ranganath in a village."
Director Srinivas Bhalla said: "There is great deal of cooperation from the producer. He has given us total freedom. I thank my hero Sashank, heroine Aarya Menon for reflecting the perfect onscreen chemistry. We recently finished our Rajahmundry schedule. The film has the backdrop of a village. Initially, the film rolled down very slowly, giving me tense moments. But, the output is really superb." He further said the next schedule will continue from July 7th to an uninterrupted finish."
Producer John Baptist said: "I am a new comer into Tollywood. I seek the blessings of the Telugu people, Telugu artistes and technicians. I love this industry very much; and it fascinates me a great deal." He plays a villainous role in the film.