Satyanarayanamma Productions
Production No.2
Cast: NTR, Amisha Patel, Sameera Reddy, Punit Issar, Kalabhavan Mani, Jaya Prakash Reddy, Asish Vidyardhi, Nassar, Rahul Dev, GV, Bharani, Brahmanandam, Dharmavarapu Subramanyam, Krishna Bhagawan, Kaikala Satyanarayana, Narra, Ali, Chalapati Rao, Rallapalli, Costumes Krishna, Srinivasa Reddy, Chitram Seenu, Ponnambalam, narsing Yadav, Jayachitra, Manorama, Harika, Baby Arpita, Master Teja, Potti Murthy, Narendra
Crew:
Story: P Ravi Shankar
Dialogues: Paruchuri Brothers
Music: Mani Sharma
Lyrics: Veturi, Bhuvana Chandra & Vennelakanti
Cinematographer: Ravindra Babu
Editing: Kotagiri Venkateswara Rao
Art: Anand Sai
Fights: Vijay
Choreography: Lawrence, Raju Sundaram, Brinda & Kalyan
Screenplay - Direction: B Gopal
Producer: Chengala Venkat Rao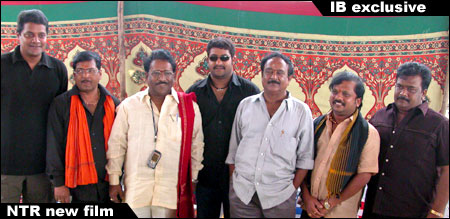 NTR's latest film in the direction of B Gopal was started on 17th November at Dock House, Mehdipatnam. The unit of Satyanarayanamma Productions has invited the press to share the information about the film.
This film end draught of Telugu film industry - Paruchuri Venkateswara Rao
Paruchuri Venkateswara Rao said that this script is a tailor-made one for NTR. There are two heroines - Amisha Patel and Sameera Reddy - in this film. First half of the film would have city backdrop and the second half would have village backdrop. Paruchuri brothers have prepared three versions of dialogues for this film.
This film would break records - Paruchuri Gopala Krishna
Paruchuri Gopala Krishna said that this film would break all the records of Telugu film industry. The story of the film is great and the characterization of hero is terrific. This film's theme is -
Nenu voorini choosukuntanu. Vooru nannu choosukuntundi.
This film has all the ingredients that are required for a potboiler - sentiment, action, crime, emotions, entertainment, comedy and family orientation. NTR would take the film's stamina to great heights with his power-packed performance. The story writer Ravi Shankar has given a powerful story for this film.
A story Telugu film industry has never seen - NTR
NTR remembered the day when Sai Kumar called up NTR and asked him to watch the show of Kannada film directed by his brother Ravi Shankar. After watching the show, NTR opined that the Kannada film directed by Ravi Shankar has the stamina of Simhadri film. Impressed with Ravi Kumar's capability as story writer and narrator, NTR gave him appointment for the narration of the story. Ravi Shankar came up with an extraordinary story and it was immediately okayed by everybody. NTR professed that Ravi Shankar would become a sensational director in Telugu and hopefully he would act in the direction of Ravi Shankar in the future. NTR also opined that this story would be a story Telugu film industry has never seen so far.
Waited for 5 years for this kind of script - Chengala Venkat Rao
Chengala Venkat Rao said that it was Samarasimha Reddy that made him famous and got him tremendous recognition. He wanted to do a bigger film than Samarasimha Reddy and waited all the while though he got dates of NTR. He thanked NTR for his generosity of taking Rs. 1 /- as advance from him and giving him dates when literally all the producers of Telugu film industry are queuing for his dates.
May 1st week release
1st schedule of this film started on 17th November in Hyderabad. The 2nd schedule would start on 1st December in Araku Valley and would take place for 25 days. This film is expected to be released in the 1st week of May 2005.