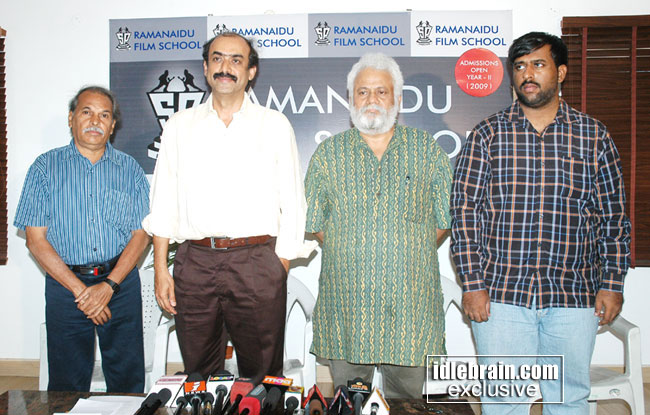 D Suresh Babu arranged a press meet today to showcase his recently opened 'Rama Naidu Film School'. It was inaugurated October 9, 2008 with a Post Graduate Diploma course in Direction and Screenplay with 30 students. It costs around 3 lacs for a course of 3 semesters (18 months). Venkatesh Chakravarthy is the in-charge of the school.
Speaking on the occasion D Suresh Babu said, "Telugu film industry is surviving out of experience. If education is added to it, the standard of Telugu film industry will rise enormously. I also a attended a few classes and learnt that i didn't know much about filmmaking though I produced several blockbusters. We are getting successful filmmakers to give lectures to students. Dasari visited the film school last week and K Raghavendra Rao will be delivering a series of lectures from the next week onwards. We are also introducing Post Graduate diploma in cinematography from this year onwards. We are also planning to start a talent bank soon where we source, analyse, train and market the talent around the world through internet."
The admissions are open for the second batch. One can apply by downloading application form from the official website.