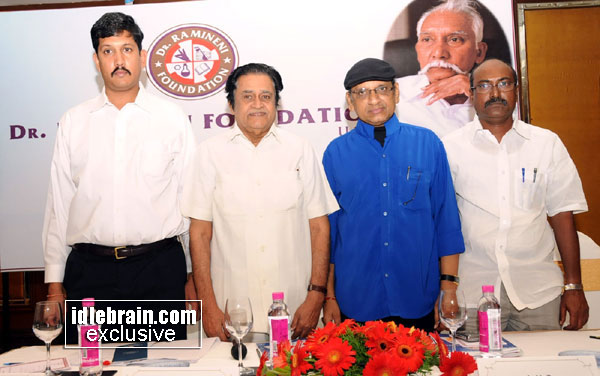 Dr. Ramineni Foundation Puraskaarams 2008 will be presented on October 12th at a function to be held at Hotel Taj Deccan, Hyderabad. Justice Jasti Chalameshwar Rao, Chief Justice of High Court, Assam, will be the guest of honor. Senior BJP leader M. Venkaiah Naidu, MAA president Murali Mohan, senior actress Jayasudha Kapoor will be the guests. Actor AVS, Convener of the Foundation today held a press meet at Hotel Taj Krishna, Hyderabad.
"Visishta Puraskaaram will be conferred on Dr. Kota Harinarayana (Raja Ramana Fellow), former VC, University of Hyderabad. Receipiants of the Visesha Puraskaarams will be KVV Mallikarjuna Rao (Founder and promoter of Vetapalem Library), CV Rajagopala Rao (Veteran journalist) and Smt. Ramaprabha (senior actress)," AVS said.
Committee Member R. Vedacharya (from US) said that by instituting these Purashkarams, the foundations hopes to carry forward the legacy of late Dr. Ramineni. He said that the tradition of extending these honors would be continued every year.