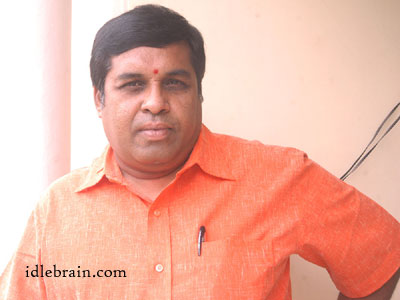 Audio of Sarkar, the film starring Nagababu as Ajay Sarkar, is going to be released on June 29th (Sunday). The film will also have its final leg of shooting schedule in July first week. Presented on Petrofab International Limited and made on Santhi Priya Productions, the movie is directed by debutant Phaniraj. Producer is K. Venkateswara Rao, with his patron being Dharmakarta, a Dubai-based NRI. Launched on February 1st, this year, the film is tentatively releasing July end. The producer today arranged a media briefing at his office in Hyderabad.
No RGV Sarkar, inspired by Sixth Sense
"Sarkar has nothing to do with Ramgopal's Sarkar. Our film is by majority influenced by Hollywood thriller – The Sixth Sense. It is a psycho-thriller. Nagababu plays the title role as Ajay Sarkar. Vijayanand (debut hero of Photo) paired up with Suhasini. The hero plays the ladies hostel watchman, and Suhasini, the hostel inmate. Both fall in love. Nagababu and Ramyakrishna form another pair. Ramyakrishna's role gets killed in the film." Rao said.
Evil Spirit appears to Heroine only
"We are banking on the performance of our artistes, particularly Nagababu's full-length role as psychiatrist. Graphics in the film have come out excellently. The evil spirit in the film is visible to the eyes of the heroine only, based on her horoscope. Item number by Anu Vaishnavi from Mumbai will rock. There is a satire in the role played by Prudhvi. Ramireddy, Sivaji Raja, Annapurna, Raghini and Narendra are among the cast. Music is by Veenapani."
In Safe Zone; 5 More films soon
Two more films are under planning with financial backing from Dharmakarta, a Dubai-based friend of the producer. "My friend Dharmakarta is always interested in films. Recently, he performed 108 kalyanams in Dubai in coordination with the TTD. He is now showing much interest in taking up five more film projects in the near future. Immediately, two will take off. Now, we are in a very safe zone concerning the business of Sarkar. We already got good bucks through selling of Satellite rights. Whatever comes to us is only profit. It has all commercial elements to become hit film. There are three songs in the flick."