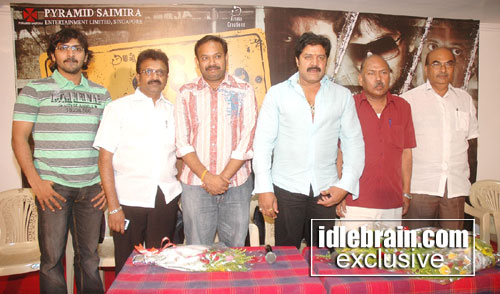 The bilingual film, starring Srihari and Vaibhav, which was formally titled as 7 (Seven), is now re-titled Saroja. A media briefing was arranged at Film Chamber building, Hyderabad, today. Made on Amma Creations banner, the film is directed by upcoming Tamil producer Venkat Prabhu with producer as T. Siva. Music is by Yuvan Shankar Raja. Kajal and Nikita played heroines. SP Charan, Prakash Raj, Brahamandam are among the prominent cast. Most part of the film has a close-knit relationship with the highway and the logo – SA- RO –JA resembled that of a number plate. The film is going to hit the screens worldwide through Pyramid Saimira, next month.
Terrific subject: Srihari
Srihari said: "When Venkat Prabhu narrated me the subject of Saroja, I was stunned. None on earth can narrate a subject like that, except Venkat Prabhu. Generally, I don't just like that give any nod to a director. But, I gave complete freedom to the director, saying him to mould my character as per his wish, provided he should bear the consequences after the film releases. It is because of the image factor. But, I am confident the film is going to become a blockbuster. Venkat Prabhu awaits great future. Vaibhav played a fantastic role with lot of ease. I saw the trailer and some portions of the film at my house today. They are terrific."
Three stories culminate: Venkat Prabhu
Director Venkat Prabhu said: "The subject is three-pronged. Each of the subject start in Hyderabad, Chennai and somewhere (unknown location) in Andhra Pradesh. The three segments of the film culminate at one point. What happens then? It forms the crux of the film. We shot some of the extraordinary scenes: We shot a song sequence at St James Power Station, the largest one-stop clubbing destination in Singapore, which is also the biggest in Asia. We shot a breathtaking action episode in Pondicherry with Srihari; and next, aerial shots of Hyderabad city and outskirts, which include key action scenes. Yuvan Shankar Raja, my brother, provided music and the audio is already released in Tamil, generating very good report. We are going to release the Telugu version of the audio next week in Hyderabad. I am thankful to producer for his excellent cooperation, moral encouragement and unbridled financial support."
Vaibhav said: "But for the support of producer Siva, we wouldn't have done this project at all. It is an excellent subject and I predict that this film is going to become a sensation in Telugu. I felt happy working with senior hero like Srihari garu."
Lyricist Vennelakanti said: "Yuvan Shankar had provided superb tunes. It's my privilege to work for this film. Venkat Prabhu, who created history in Tamilnadu with a hit film Chennai 28 is going to become one among the top most directors in the country, very soon."
A. Kodandarami Reddy, who graced the occasion as a guest, sought the blessings of the Telugu audiences for his son Vaibhav, who plays one of the heroes in Saroja.