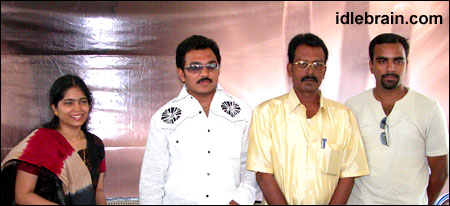 After the success of Nuvvuvostanante Nenuvodanatana's success choreographer Prabhu Deva will be seen in a new role. Satti a film being produced by Sumanth and Bhaskar is a dubbed version of Prabhu Deva's hit Tamil film Allithandavam.
Talking about the film producer Sumanth said, "This film marks my entry into filmdom. Earlier I was an IT professional and with interest in the film field I ventured into films. My friends and well-wishers advised me to do a dubbing film first for experience. After thinking about it I searched for good films and in course of this search I found this film and was impressed by it."
"Prabhu Deva is a versatile actor and he had done a tremendous job in this movie. The film was a success in Tamil and I was happy to take up the film in Telugu. The music of the film is still date a success in Tamil Nadu and can be heard at some place or the other. After taking up the project we requested Bose to write the dialogues and lyrics for the film."
Talking about the progress of the film he said, "The dubbing part of the film is almost complete. The song recording will start by the end of this week, and the audio will be released by the first week of May. The film will be released by the end of May."
Bose who has written the dialogues and lyrics of the film said, "My first chance was given to me by K Raghavendra Rao. After that I have done a few films and this will be my seventh film, for which I have written lyrics and dialogues."
"Writing for the songs was a great pleasure and all the songs in the film have been great success in Tamil Nadu. Till date one can hear these songs playing in the state. Coming to the story it is the story of a rich man's son who takes up a challenge of his father and wins and proves his worth."
Usha who is singing songs in the album said, "When I first heard the songs I was totally impressed by the music provided by Vidyasagar. Sumanth who asked me to feel the songs before I sang them gave me the cassette. After listening to the songs I was impressed and really enjoyed recording the songs."
- Aditya
Satti Links
Photo Gallery