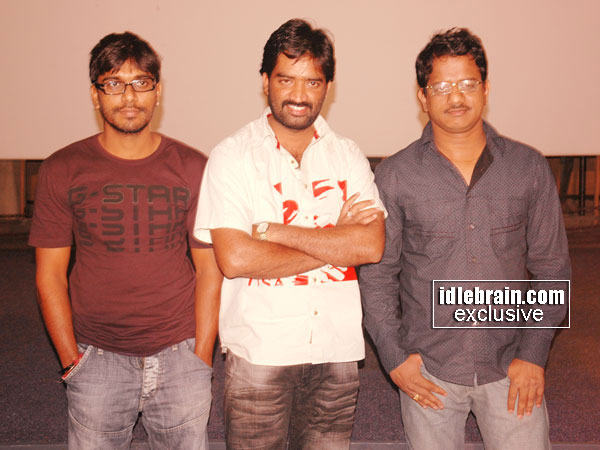 Siddhu From Sikakulam on August 14
The unit of Siddhu from Sikakulam, an Allari Naresh starrer, is happy with the film's first copy. The film made on Welfare Creations, a subsidiary of the Welfare Group of Companies, is going to release on August 14th. Today, the songs were screened to the media at Prasad Labs, Hyderabad. Director Eeshwar, music director KM Radhakrishna, cinematographer Sivendra addressed the media. A couple of songs were canned at the beach locations of Bangkok. Shradda Das and Manjari are the two heroines. M. Vijayaprasad is the producer.
Selfish Satisfaction: KM Radhakrishna
KM Radhakrishna said: "I have a kind of selfish satisfaction about this film as the songs had been canned exactly in tune with the music that I had scored. The audience will sure find variety from one song to the other. The album also has the insertion of all elements of fine music, be it class, mass and melody. I have also seen the first copy and I am immensely pleased with the output. I am sure; the film is going to be both musical hit and blockbuster as well."
No Vulgarity: Cameraman Sivendra
Cinematographer Sivendra said: "I am lucky to be working with a talented director like Eeshwar. He provided me with all kinds of equipment for giving excellent cinematography. The film is a clean entertainer with no vulgarity or obscenity anywhere. The visuals will sure enthrall the audiences. The song sequences shot in Bangkok will be a special attraction."
Mass & Class Entertainer: Director
Eeshwar said: "For the first time, hero Naresh is coming up with a unique role in his career, playing that of a student. It has all the shades of a mass and class entertainment. Music by KM Radhakrishnan has become a chartbuster. The audiences are going to have a truly relaxed enjoyment. The film is hitting the screens on August 14th."