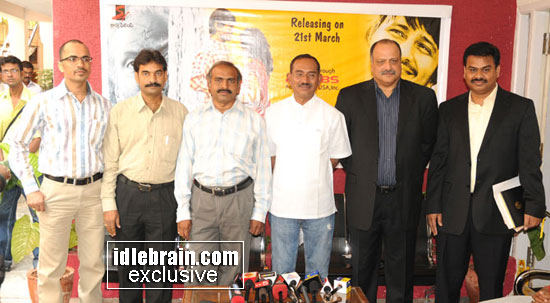 25% earnings from the ticket sales of Sontha Vooru in USA are going to be spent for charity work. Sonthavooru will be released worldwide on 21 March. All the patrons of Sontha Vooru are expected to share their details so that one lucky winner can be chosen from a draw. The native village of that lucky person will get the funds collected through ticket sales in USA.
This scheme was announced by the team of Adlabs Inc, USA at a press meet held regarding Sontha Vooru in Hyderabad.
Uday Kumar (Head of Operations, Adlabs USA) explained how Adlabs is enriching the Telugu movie viewing experience by presenting Telugu films in plush multiplexes which exhibit the best of Hollywood flicks.
Director Suneel Reddy said, "I believe that good films will always be entertained by the movie lovers. Sontha Vooru is about our roots which are native villages. I tried to capture how native villages are being destroyed in the guise of development. Sontha Vooru is an emotional film with best of performances."
Raman Sanchula (Business development manager, Adlabs, USA) said, "I am basically from Prakasam district. I started my career as software engineer and used to exhibit and distribute Telugu films as movies are favorite pastime of Telugu people in USA. Later on I bought a multiplex in USA. Adlabs approached me to be the business development manager. I also distributed films like Yamadonga in USA in the past. The online ticketing at Adlabs will ensure transparency to the producers and distributors. They can come to know about the actual number of tickets sold live at anytime. We also started digital projection of Telugu films with KIKK film. The digital projection will save the cost of printing and logistics by at least 50%. We have been approaching all the producers of new films to use Adlabs services in USA to get their movies released."