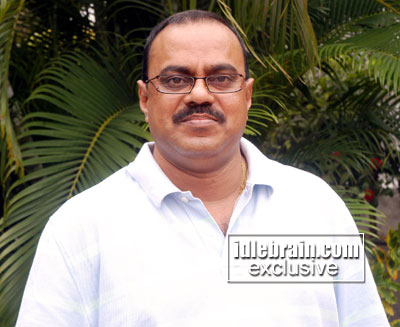 Nagarjuna's epic film Sri Ramadasu will be hitting the Hindi belt all over India as Sri Ram Mandir in July. Producer Konda Krishnamraju is releasing the dubbed version on his home production Aditya Productions. Veteran BJP leader LK Advani will release the audio at the Siri Fort Auditorium, New Delhi, on the evening of June 18th, preceded by the premiere of the film. The recipient of the first album is another BJP stalwart M. Venkaiah Naidu. Sushma Swaraj, Arun Jeitlly and several other senior politicians will grace the occasion. The producer today arranged a press meet at the Walden, Whisper Valley in Hyderabad.
6-Language project by December
In all, the film will get dubbed into six Indian languages at present – Hindi, Tamil, Oriya, Bhojpuri, Gujarati and Malayalam. While that of Hindi set for early July, the Tamil (titled Ramalayam) is likely in the last week of the same month. Hectic efforts are underway for the Bhojpuri release to coincide with Deepawali Celebrations in October. The Oriya version is expected to be readied in a couple of months, to be followed by the Malayalam by December.
Advani's zeal for Badrachalam
Konda said: "My joy knew no bounds when BJP leader LK Advani accepted to release the audio. His knowledge about Badrachalam and Sri Ramadasu stunned me. He even made easy references to various yarns about Lord Rama's forest dwelling in the forests of Kinnerasani ranges skirting Badrachalam. Advani further holds rich understanding of the historical aspects of Badrachalam temple. Though he was interested to see the Telugu print of Sri Ramadasu, I wanted to show him the fully fledged Hindi version. We have taken all care to see that the dubbed versions will reflect the nativity factor of each state. If everything goes well, I want to release the film in all 16 languages of the country, very soon. MM Keeravani appreciated the superb rendering of Hindi lyrics by SPB, Hariharan, Sadana Sargam and others. We are planning premieres of Sri Ram Mandir in Mumbai and Ahmadabad in the coming weeks."
No affiliation to BJP: Konda Krishnam Raju
Replying to a question, the producer clarified: "Release of Sri Ramadasu in Hindi and proposal to invite BJP leader Advani has nothing to do with any political affiliation. Basically, I am fan of Advani. I like him very much personally. He is a sincere leader who upholds the values of Hindutva." However, the undercurrent of general elections in the backdrop of BJP's Hindutva card post the Ramsethu issue might turn advantageous for the film's business.
Maximum number of prints
Sri Ram Mandir will be released all over North, overseas and AP with a maximum number of prints. The exact figure of prints would be made known by June 25th based on the demand from the distributors, Konda Krishnam Raju said.