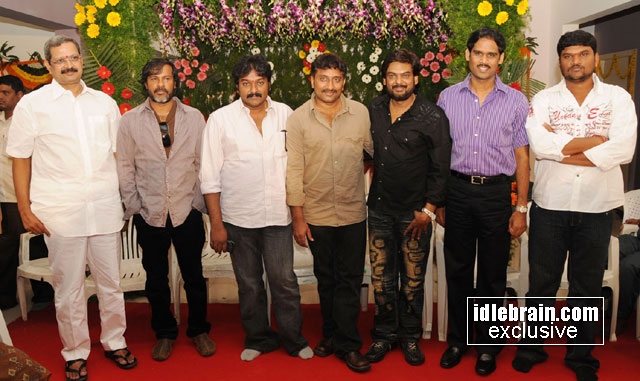 Puri Jagan and Aditya Ram (Aditya Ram Group of Companies) are together going to produce 10 films in corporate style. A press meet was arranged in Puri Jagan's office today morning to announce the same. Puri Jagan, Aditya Ram, VV Vinayak, Seenu Vytla, Parasuram, Chota K Naidu and Vijayalakshmi Raju attended this event.
10 films in 2 years – Puri Jagan
Puri Jagan said, "I am going to produce 10 films in 2 years jointly with Aditya Ram in corporate style. I will direct two of these 10 films. VV Vinayak, Seenu Vytla, Parasu Ram (Yuvatha fame) Chota K Naidu will also direct a film each. We will be introducing cinematographer Chota K Naidu as director soon. I will provide story for Chota K Naidu's film. The first project on this joint venture was launched today morning. Sairam Shankar and Bindu Madhavi are doing main leads. This film will be released on April 9."
15 years of Aditya Ram Group of Industries – Aditya Ram
Aditya Ram said, "I started Aditya Ram Group of Industries in 1994. It's been almost 15 years since we launched our group. I am happy to start a separate division to produce films. Puri Jagan is going to lead us with selection of the project. I am the producer and he is the presenter. I would like to thank Vijaya Lakshmi Raju, Shakti Ramesh and Tandava Krishna for making this project happen. The two primary reasons for starting this venture are to provide employment and give entertainment."
VV Vinayak said, "We (I, Jagan & Aditya Ram) are very good friends. All the directors who are working for this division are willing to contribute our best to make sure that it becomes a huge success. This is the team of work horses. I am feeling happy for Chota K Naidu getting a nice launch pad as a director. We all are willing to work for his film as he contributed a lot to the success of our films."
Chota K Naidu said, "I was shocked when Puri called me and offered to produce a movie in my direction. Puri Jagan is giving the story and VV Vinayak is giving the screenplay. I will direct a film if they cooperate with me."
Seenu Vytla said he would do a film soon with this banner and he would announce the hero's name in the due course.
Parasuram said that he came to industry with the inspiration of Jagan. He thanked Jagan for producing a film with him.