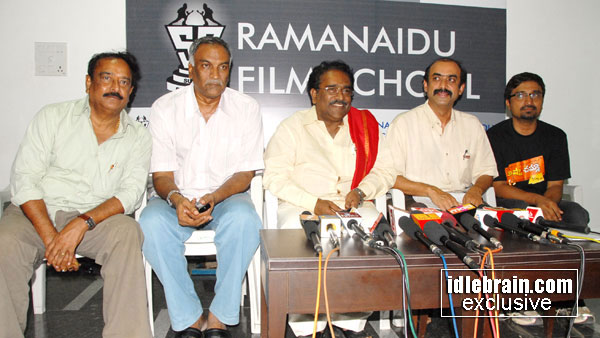 The long pending dream of movie moghal Dr. D. Ramanaidu is going to become a reality this Dasara. It is Ramanaidu Film School. A press meet was today held at Ramanaidu Studios, Hyderabad.
Suresh Babu (of Suresh Productions) said: "It is the long-cherished dream of my father to establish a film institute. Our Telugu film industry is seriously lacking the technically and artistically trained people. But RFS is going to fulfill it. Currently, we are launching 18-month courses in Direction & Script Writing and Cinematography, with an intake of 25 candidates into each course. The fee structure is very less compared to the technical standards provided, i.e. Rs. 2 lakh, which includes a semi-residential pattern. The interviews will be held on September 17th to 20th in Hyderabad. We are willing to extend financial assistance to those deserving candidates, besides exempting the specified educational qualification for admission into these courses, for the really talented people, provided they should prove their mettle. The application for seeking admission can be downloaded at www.ramanaidufilmschool.com."
Tammareddy Bharadwaja, Telugu Film Producers Council President, said: "Suresh Babu has been trying to establish this film school for the last five years. Though he wanted it to begin under the aegis of the Producers Council, technically it was not feasible. I am not ashamed to say that Telugu films are lacking in quality of content and technical values. The reason for this is that there are not trained artistes and technicians for us. I hope RFS will bring in revolutionary changes in the area of filmmaking. Though there are a number of sub-standard film institute in Krishna Nagar area, they are not helping the students as they don't have the viability to give practical training. At this junction, RFS is a welcome feature." He further said the "Talent Bank with theatre artistes" will be formed soon. Their services would be utilized for the film industry.
Paruchuri Brothers said that they would extend the best of their cooperation and services to the RFS by giving practical training. Director Mohan Krishna Indraganti said that he was lucky and felt proud to be associating with RFS, by way of rendering his services as the faculty and in the formulation of the syllabi.