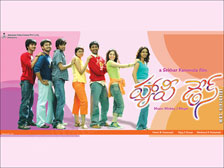 USA release on 28 Sep & India release on 2 Oct
Happy Days is going to release on 28 of September in USA and 2nd of October (Gandhi Jayanti) in India. For the first in the history of Telugu film industry, a film is releasing in international arena first and then releasing in India later.
RK Film Distributors who distributed the records-shattering overseas blockbuster Bommarillu are distributing Happy Days. This film is expected to release with 11 prints in abroad on 28 of September. Dil Raju bought the distribution rights for entire Andhra Pradesh by paying a fancy amount. He has distributed several blockbusters in Nizam in the past. For the first time he is releasing a film for the entire Andhra Pradesh releasing. This release is going to be limited 30+ print release in AP on 2 October.
Dil Raju says that he has given consent for the advanced USA release though there is a huge risk involved. The reason for his consent is the huge confident he has on the result of the film. The target audiences of this film are going to be youth (because of the movie subject) and families (because of Sekhar Kammula's reputation as clean filmmaker).
Happy Days links:
• USA release
• Music launch
• Mickey J Meyer interview
• First on idlebrain
• Interviews with cast
• Photo Gallery
• Wallpapers
• Announcement
• Press meet