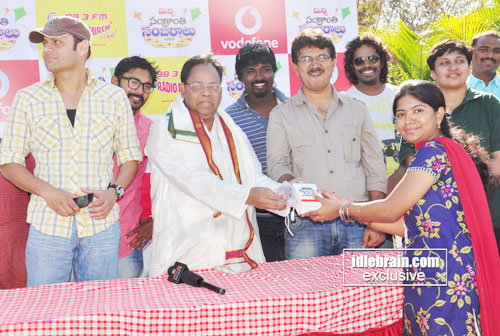 Add color to your festivities at the Sankranthi sambharalu organized by Radio Mirchi & Vodafone
~ Tollywood celebrities Director Raj along with Rishi Movie Team & Radio Mirchi RJs a dded charm to the event ~
Hyderabad, January 14 th , 2012: Makar Sankranti on 14th January, every year is celebrated with grandeur all over India. Radio Mirchi 98.3FM, the hottest radio station in the city in association with Vodafone celebrated Sankranti this year in all its authenticity with Rangoli and kite flying competitions that was organized at the Shilparamam, Hyderabad's art & heritage point. Mr. G.N.Rao, Special Officer, Shilparamam; Rishi Movie Director Raj along with Rishi Movie Team were present on the occasion adding glitz and glamour to the traditional competition. The winners of the Rangoli competition Ms. Swapna ; Ist Runner up – Ms Tejaswi and 2 nd Runner up – Ms Akhila were handed over the prizes.
A huge crowd and Mirchi listeners had gathered in Shilparamam to witness the euphoria of Sankranthi celebrations. Few opportune Mirchi listeners, who were chosen on-air, got a golden opportunity to be a part of the competitions along with their favourite RJs. The teams with the most striking Rangoli and skill in kite flying were declared winners, who were gratified with some interesting goodies. As an icing on the cake the lucky members of the winning teams also got an opportunity to meet and interact with their favorite RJs and Actors.

An amused Director Raj said, 'Being part of Radio Mirchi's Sankranthi celebrations brings back some fond memories! Sankranti is celebrated in a big way and I had a great time being part of the Rangoli and kite flying competition" Also speaking on the occasion, Raj said, "It's absolutely amazing to see the enthusiasm of the Radio Mirchi RJs and the listeners participating in the competition and having a gala time!"

One of the participants said, "It was the truly a memorable experience to have participated in this competition, had a ball interacting with Mirchi RJs and Tollywood actors"