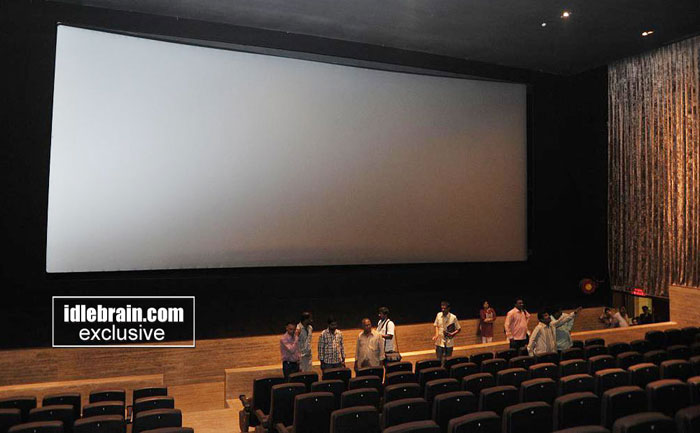 Welcome to S2
S2 will serve as the new symbol of contemporary style and design and carry forward the essence of some of the all-time greatest movies screened at this venue over the last three decades. It will serve as the destination for an incredible yet affordable movie going experience, in a setting that is truly inspirational. The interiors are chic with the option of a 'gold class' and all three screens are equipped with state- of-the-art technology to provide you with an experience like never before; an experience that cannot be matched.
The designs are new and the space looks completely different, but S2 is here to continue what Raghava Cine Complex has accomplished over the last 30 years – provide you with a wonderful movie going experience. The space will be re-launched with a completely new look on Wednesday, October 12th, 2011 by Dr. Vijay Mallya, Chairman UB Group and Megastar Padmabushan Dr. Chiranjeevi, in the honorable presence of a number of dignitaries.
A Brief History of Raghava Cine Complex
Raghava Cine Complex was launched on July 27, 1980 by the Chairman of McDowell & Co. Ltd. - late Sri. Vittal Mallya in the presence of the legendary cine artiste, honourable Sri. N.T. Rama Rao, Revenue Minister - Sri. N. Janardhan Reddy, and Ex-Governor of Uttar Pradesh - Sri. B. Gopal Reddy.
Over the last three decades, Raghava Cine Complex has been a household name in Nellore, bringing you movies from big banners across the country with many of your favourites running well over 100 days. These memories will always be cherished and would not have been possible without the late Magunta Subbarama Reddy, who was the visionary behind this legendary theatre, a man whose mission was to bring the best movies to the people of Nellore. Raghava Cine Complex was the first of its kind in Andhra Pradesh with three screens, completely air-conditioned designed to entertain movie lovers.
An In-Depth Look into S2
DESIGN
The space was designed by Giovanni Castor of Castor Designs. The multiplex is done up in a contemporary fashion to give a stylish yet warm feel so customers could relax and completely enjoy the experience. The lobbies and washrooms shine in Travetino marble and the auditorium is aesthetically done up with walls paneled with sheer chocolate brown curtains with back-lit curtains and Vitrified tiles on the floor.
Giovanni Castor of Castor Design and Associates in California brings more than 22 years of hospitality and interior design experience to escape. Giovanni was Project Designer at the top hospitality firm, WATG- Winberley Allison Tong and GOO Newport Beach Office. Castor was the lead designer for the Palm Casino- Las Vegas, L'Ermitage- Beverly Hills, Grand Hyatt- Mumbai and also collaborated with noted architect I M Pei on the Four Seasons in New York.
Standing proof of his immense global exposure is Escape in Chennai, the first luxury multiplex in the country.
Screens
Spanning a total area of a little more than 40,000 sq. ft. (ground floor and first floor), S2 houses three screens, catering to a capacity of over 1500 seats. Each of the screens comes with a select number of Gold Class seats that have been specially designed with luxuriously comfortable reclining seats to provide customers with a first class quality experience.
Technology
The cinemas are equipped with state-of-the-art entertainment technology; including digital projectors with 3D technology, 2.4 gain Silver Screens and digital audio, delivering stunning cinematic experience. All our installations are commissioned by well calibrated testing equipment and factory trained in-house engineers.
Picture
RDX-4K
At S2, RDX-4K stands for the Real Digital Experience provided by 4K projectors. Watching movies in digital format means enhanced clarity, colour, contrast and brightness by incorporating all DCI - screen management system standards. The movie looks and sounds exactly the way the film-maker intended it every time it is projected. The cinema comes replete with Barco digital projectors with 4K resolution, the latest in digital technology. Hence the projection brings stunning images in Enhanced 4K resolution (4,096 x 2,160), combined with ultimate brightness and vibrant colour-accuracy time after time. They are also known for their technical competency in preventing piracy.
RDX 3D
All the cinemas are equipped with 3D. 3D movies in RDX use the Master Image's Digital 3D technology. Digital 3D adds a new dimension in 3D movie viewing and providing an immersive experience that engages the audience in to the situation of the movie with realistic colour and sharp images. The system interfaces with the Digital Cinema Servers and are capable of playing 3D content that comply with the Hollywood Studio approved DCI specifications.
Sound
The screens are equipped with 3 way JBL speakers and QSC amplifiers with world's leading QSC DCP 300 processor to give high precision in all frequency ranges. These high quality equipments are tuned with standards of SMPTE to give maximum voice clarity and are guaranteed to give an audio experience that is unparalleled.
SERVICES

Food Court
Done up in style and looking over a lush garden, the food court at S2 is the perfect place to enjoy a quick, delicious meal with friends and family. The elaborate menu covers Indian, Chinese and Continental cuisines and boasts of items such as creamy pastas, scrumptious sandwiches, signature pizzas, delightful desserts, as well as the aromatic local flavours of Nellore. There is also a wide selection of freshly squeezed beverages at the juice bar and a variety of munchies at the chaat counter.
Concessions
The Food and Beverage counters at S2 offer a variety of freshly prepared snacks, ranging from popcorn, puffs, desserts, beverages, ice cream and a whole lot more.

Tickets
There are several options available to the customer to book tickets at S2. Tickets can be purchased in person at the ticket counters, 7 days a week, 8.30 a.m. to 10.30 p.m., online at www.s2cinemas.com or have it door delivered by calling 0861-6624224.
Tickets can also be purchased through the FUEL card, the first-ever prepaid movie card. This card allows customers to pay for movie tickets as well as food and beverage at the various points of sale at the multiplex. Additionally, Fuel can be used as a payment option for all remote purchases, such as the website and the call centre.
Car and Bike Parking
S2 has ample space for parking and has allotted parking areas for cars and bikes. The parking lots can accommodate up to 60 cars and 300 bikes.
For more information, check out www.s2cinemas.com