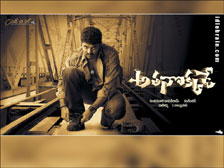 Kalyan Ram's 3rd film in the direction of Surender is running with hit talk. The unit of NTR Arts banner has arranged the success meet to share information with the press. Kalyan Ram, Sindhu Tolani, Surender, Brahmanandam, Venu Madhav, GV Sudhakar Naidu, Rajyalakshmi, Ajay, Ram Prasad (cinematographer) and Gowtam Raju (editor) participated in this press meet.
Kalyan Ram is a passionate artist - Brahmanandam
Brahmanandam said that this success meet is a genuine success meet. He praised director Surendar as the hero of the film. He knew Surender from the days of Kranthi Kumar's Preminchedi Endukamma. Brahmanandam asked in 3 scenes of this film, which comical yet vital. Brahmanandam opined that the heroine introduction scene and the interval block are the best scenes he has seen in Telugu films. He commended that Surendar has the ability to gauge the mass pulse. He cautioned to Surender that the success should not go into his head and he should behave disciplined. Brahmanandam said that Kalyan Ram's performance is an asset. He quoted Kalyan Ram as passionate artist and successful produce.
Director Surendar said that he is indebted to producer cum hero Kalyan Ram for giving him an opportunity to direct. He thanked the cast and crewmembers for cooperating with him.
Bigger hit than I expected - Kalyan Ram
Kalyan Ram said that he is finding no words to explain his happiness over the stupendous success of Athanokkade. This film has become bigger hit than he expected it to become. He has known Surender for the past 1 and half years. Chiranjeevi was the first film celebrity to call Kalyan Ram and congratulate him over success at 5 pm on the release day. Later on Nagarjuna called up from Mauritius. Mohan Babu also called up and congratulated him. Bala Krishna too called him up from Austria to appreciate. For the first time in his life Kalyan Ram has seen tears (of happiness) in the eyes of his father Hari Krishna over the success of Athanokkade. Ramesh Singanamala has bought the Tamil rights of Athanokkade for a fancy price and he would be producing this film with Vijay as hero.
Kalyan Ram lived up to the title of Athanokkade - Venu Madhav
Comedian Venu Madhav said that the introduction of his character in Athanokkade got tremendous applause. He also shared proximity to director Surendar by claiming that his mother too came from Warangal district. He praised Kalyan Ram to live up to the title of the film 'Athanokkade' by looking into the 24 crafts of filmmaking and making this film a big hit.
Kalyan Ram made Nandamuri dynasty proud - GV Sudhakar
GV Sudhakar said that his role in this film has given answer to the people who says that there are no villains of Telugu origin in Telugu film industry. His character in this film is the best character he has done in his career spanning 90 films in 4 different languages. He appreciated Kalyan Ram by risking his money and family reputation and making a big hit that would make Nandamuri dynasty feel proud about. He also said that entire film industry wanted this film to become a success.
Heroine Sindhu Tolani, cinematographer Ram Prasad, actor Ajay and actress Rajyalakshmi also spoke during this press meet.