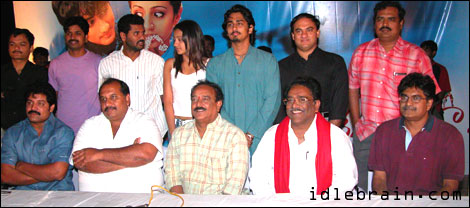 The success meet of Sankranthi's sensational hit 'Nuvvostanante Nenoddantana' was held at Rama Naidu studios on the night of 30th January 2005. The cast and crewmembers have attended this function to share their happiness.
Happy to get a hit after 2 years - Srihari
Srihari gave a pretty honest speech on this occasion. He said that he predicted this movie to run for 1 year after listening to the storyline. He narrated his experiences with his son Sashank while dropping him at school every time. His son used to look at film street posters while traveling in car and used to ask Srihari if that film (in the poster) is hit/average/flop and Srihari used to respond accordingly. But unfortunately Srihari used to feel guilty and embarrassed as he had to say that his films were flops for the past two years. But after the sensational hit of NVNV, Srihari proudly told his son about the success. Srihari narrated how well Sirivennela Seetarama Sastry appreciated his work. Hero Nagarjuna also called up Srihari to congratulate him and had a string of praises for his performance. Mani Ratnam and Shankar also saw the film in Chennai and commended the work of Srihari.
Second half is the heart of NVNV - Paruchuri Gopala Krishna
Paruchuri Gopala Krishna said that there are people who said that second half is weak. But the second half of the film is the heart of the film. He said that a director's greatness can be gauged by how well he would picturize the scenes that do not have dialogues. And many dialogues-less scenes in this film demonstrate the worth of film director Prabhu Deva.
MS Raju is the pioneer in our team - Paruchuri Venkateswara Rao
Paruchuri Venkateswara Rao said that they worked very hard and toiled throughout the making of NVNV. He described their team in his station master language by comparing MS Raju as the engine of train, other technicians as the coaches. And the NVNV film as a big junction. He has special commendation for the 4-times national award winning cinematographer Venu for making this film a visual feast. He also said that watching this film on video would not give as much satisfaction as watching it on the big screen in theater along with other crowds.
MS Raju is my God Father - Siddardh
Siddardh said that the seven months he worked for this film is like going to temple and performing rituals. He worked with full dedication to this film. Through this film he earned three persons - a brother in the form of 'Srihari', a close friend in the form of 'Prabhu Deva' and a God Father in the form of 'MS Raju'. In an emotional tone, Siddardh said that no other producer would have opted for him to do such a terrific character. Siddardh also said that even if his father produced this film, he would have preferred some other actor. He earnestly thanked MS Raju for keeping faith in him and casting him for Santosh character. Siddardh said that Trisha would remain in the future history as one of the greatest actresses of Indian Cinema.
Proud to have worked with NVNV - Trisha
An elated Trisha said that she is feeling so happy that it is tough to express in works. She is feeling happy to be the part of NVNV team.
Another film with MS Raju - Prabhudeva
Director Prabhudeva said that he is very happy. He would be repaying his debt by making another hit film for MS Raju with sincerity and dedication.
It is MS Raju's story idea - Veeru Potla
Veeru Potla said that the basic idea for this story is by MS Raju. MS Raju should be given credit for story. Veeru compared the work of Prabhu Deva's work to that of K Balachandar. He narrated how the technician's team of NVNV worked day and nights.
85 prints to 200 - Ram Prasad
Ram Prasad of Rama Naidu Labs said that MS Raju wanted to release NVNV with less number of prints as it had no star cast. But had to come up with 85 prints because it was releasing in Sankranthi season. At present, NVNV is running with 150 prints and there is an order of 50 more prints at present. These prints would be added by next Friday. He also said that NVNV is released in overseas with maximum number of prints as par with films of big heroes.
Bigger hit than Okkadu & Varsham - Nizam distributor
Nizam distributor Pramod said that this film would be collecting more than that of Okkadu and Varsham in Nizam. Generally the distributors enquire about how current booking is doing in cinema halls. But for this film, they are enquiring about advance booking and the percentage of ladies tickets sold. He opined that actor Siddardh had high levels of energy. He thanked MS Raju for giving Nizam rights.
Our first profitable audio venture - Maruthi Music
Pavan (of behalf of Maruthi Music) said that they entered audio market with Sri Anjaneyam last year and did 10 films so far. NVNV is the first audio to get them profits. This audio has meaningful music and would surely cross the sales of Varsham and Arya, he opined.
I am impressed with NVNV - Sravanthi Ravi Kishore (USA Distributor)
Sravanthi Ravi Kishore - who entered Overseas distribution with NVNV - said that he personally liked NVNV so much that he wanted to be a part of team by acquiring the distribution rights.