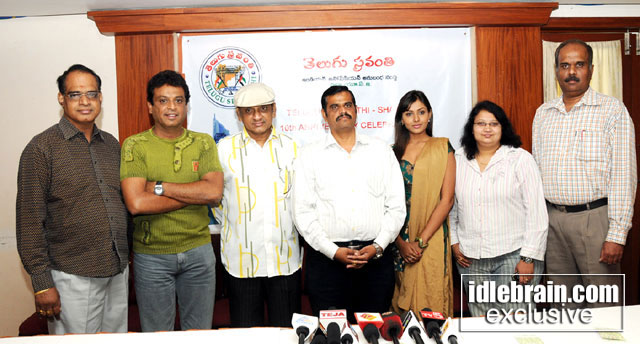 Telugu Sravanthi – a cultural organization in Dubai – is going to organize a special entertainment program on the eve of 10th anniversary in Sharjah on 7 November. Speaker Suresh Reddy, Adi Kesava Naidu and Maganti Babu would grace the occasion from the Government side.
Comedian AVS is going to design and execute the entertainment show in Sharjah. The team will comprise of Naresh, Madhu Shalini, Geeta Singh, Jayalalitha, Gundu Hanmantha Rao and Jaya Prakash Reddy. A folk team from Nizamabad will do a performance. Janardhan Maharshi's play 'Pellaniki Pelli' will also be played on this eve. Hari Kishan is going to do mimicry.
Venkateswara Reddy of Dhatri Constructions and Dwarakanadh of Telugu Sravanthi also took place in the press meet.