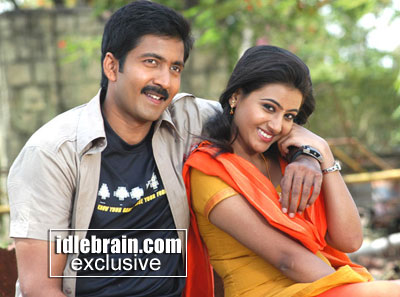 Shoot of Naveen Vadde's film titled "One" is complete but for a few blocks of stunts and four songs. Currently, stunts scenes are under canning at a private estate near Gandipet, city outskirts. A press meet was held this morning to detail the progress of the film.
Made on 9 Entertainments banner, Aarti made her debut in Tollywood. Direction and production is by new faces Krishna Teja and Nalla Charan Reddy. Debutant Sri Vasanth is the music director. Stunts are by Dragon Prakash.
Naveen Vadde said: "My role as Pardhu is designed to fight out the criminals in society. He is energetic, dynamic and very confident. (Naa Patra Samajamloni criminals ni edurkontundhi) The story is normal, but its screenplay and direction are different. Five stunts sequences shot for 40 days will have five different shades. Entire movie is being shot with high technical standards. Not alone stunts, we gave a lot of weight to human emotions. The film is about the hero. We titled it as One because we felt that was apt. Dialogues will also be trendy. But, we have not banked on any boring sentiments."
Director Krishna Teja said of the four songs, two would be shot abroad. He thanked the producer for his liberal spending on the film, "though the budget got escalated due to the quality factor." The film would be released soon and the audio, as and when the abroad songs schedule is over, he said.
Heroine Aarti expressed her happiness, "working with a friendly team," and hoped that the film would bring her luck in her further career. She further complimented Naveen Vadde for his professional approach.
Dragon Prakash, stunts choreographer, said: "There are five fights in the film. For each of the songs, we selected a different pattern and different location. Hero Naveen is presented in altogether a new format. My specialty is that I have not depended much on ropes for executing stunts. I relied much on creating the real feel in action."
Earlier, Naveen was seen engaged to the fighters on the sets. The sequence showed heroine Aarti standing behind an iron grill, tensely watching the hero kicking the swords and rods wielding fighters. The poster designs at the venue are suggestive of a violent real estate backdrop in the film.