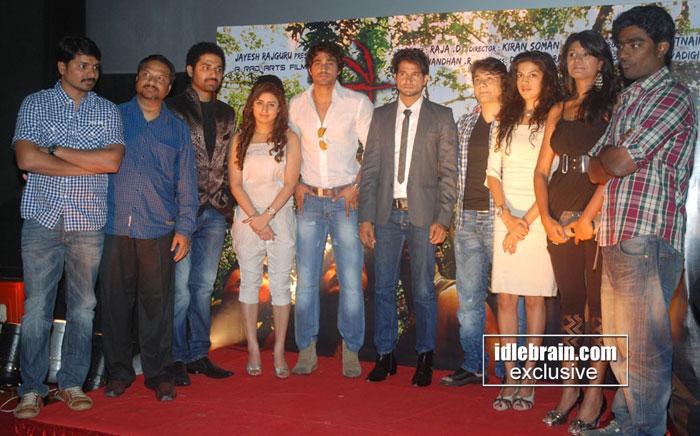 HAI - is a supernatural thriller set in interior Thailand. It is a mystery that revolves around a flower, a uni-species which blooms once in 400 years and its miraculous power to freeze age and keep a person young and beautiful until the next time the flower blooms. It beings in 389 BC with a saint Mann gifting the flower to his follower disciple Khwan who has now defied age and has stayed young until the present time.
In the current time, Post death of a professor whose research inspires three young couples while studying at the university, ponder at the possibility of the existence of such a flower and set out on a journey in its pursuit. With varying mindsets and different opinions on almost everything, they still end up going on this long and treacherous journey together. As they set out, nature begins to give them clues about reaching there and some dark forces keep them from gettingthere.
As they proceed, they discover that they have to cross five stages to get to the flower and the five stages represent the five elements of the earth – Earth, Water, Air, Fire and Sky(Moon). How do they overcome obstacles? Will the ups and downs in their relationships and their mismatching perspectives keep them together? Who gets to the flower first?
The answer to these questions forms the rest of the story.
Crew:
Director: Kiran Soman
Producer: Raja D
Story and Screenplay: R.P.Patnaik and Kiran Soman
Crate Producer: R.P.Patnaik
DOP: Abinandan Ramanujam
Music: Satish G and Vasanth
DOP - Abinandan Ramanujam
Camera man for the song KOLAVERI Di song sung by dhanush in you tube
Gold medalist in L.V.Prasad film academy
Cinematographer for the national award winning short film post man
DOP for the hindi film Bakra The divine goat featuring Anshuman jha and asif basra
CREATIVE PRODUCER - R.P.Patnaik
Leading south indian music director
Won 3 film fare awards
Now directed an english film AMY
Directed three telugu films in the south
DIRECTOR - Kiran Soman
Co director for the award films Muhurtham, Broker
and other films like Face Book,okanokkappudu etc
Editor for the english film AMY
Creative head for the international animation films MOOSHI and GARUDA
PRODUCER - Raja.D
Gold medalist from Bits-Pilani
CAST
FARHAN KHAN
Brand ambassdor for dixi scott inner wear
Have shot lots of brands nationally and internationally
Have been a brand ambassdor for a few reputed brands
FIRDAUS KHAN
Done commercials like secret temptation deodrant ,santoor face wash etc
Walked on ramp for lakme fashion week
Print shoots shot for mens healtjh cover page , nokia ,philips,star cruise , tata motors etc..
SHIVAM SOOD
Worked as main lead for yash raj films tv show named SEVEN
Main lead for tv show called Champ for synergy adlabs
Acted in few short films for international film festivals like CAUGHT BETWEEN COLOURS,SHEMSHOOK and etc
Done acting course from Anupam khers actors prepare
GUL HAMEED
Lead in the hindi movie Maruthi mera dost
and telugu movies Cheekatilo,Vishakha express,Gopi gopika godavari etc
Done few ads for pizza hut,uninor,wrigleys etc

KUSHBOO GUPTA
Was Gladrags mega model 2009 finalist
Was in king fisher calender hunt 2011
Did title song of hindi film LADIES VS RICKY BAHL
Working as a lead in the hindi film ON THE RAMP
NUPUR JHANWAR
Miss jaipur for the year 2006
Done few films in bolly wood
Doing lead role in a hindi film and a hindi album