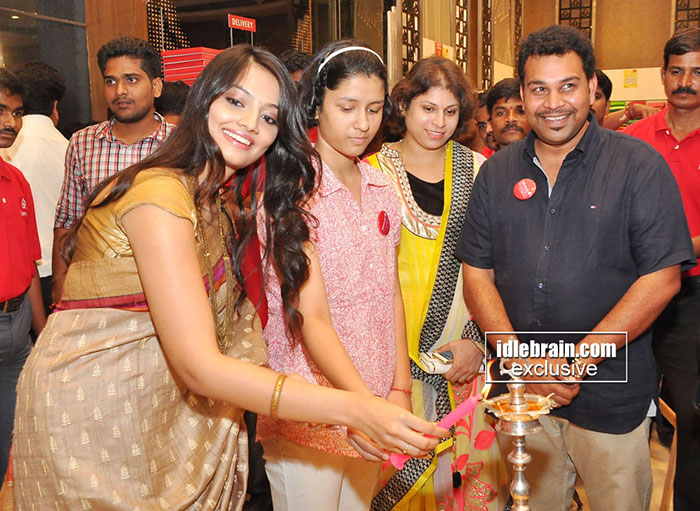 7 July 2014
Hyderabad
Kalamandir Foundation is a Corporate Social Responsibility Division of Kalamandir, a leading designer apparel store of South India. The Foundation was initiated on the occasion of Mr. Prasad Chalavadi (CMD - Kalamandir Group) Birthday in 2010. With meticulous initiatives the foundation has emerged as one of the prominent social welfare organization of the State. The event held today at Kukatpally Kalamandir stands as a revelation for the statement. Operating under its wing, the Foundation has left no stone unturned in contributing towards society.
As part of the 4th anniversary CSR event, foundation has organized blood donation camp on 6th and 7th. The collected blood was given to the Thalassemia & Sickle Cell Society which will help the children affected with Thalassemia. On the event day, an exhibition of Art & Charity along with the portraits of works taken up by the foundation was inaugurated. Apart from above, donation was given to Mentally retarded childrens of an organization, Braille slates were donated for visually challenged students, Merit scholarship certificates were distributed to the childrens of Kalamandir staff. Not just in Hyderabad, the event took place in Bengaluru, Guntur, Vijayawada, Warangal, Rajamundry & Kakinada, where about 1500 employees of Kalamandir have donated blood.
People from all walks of life which includes, volunteers, celebrities and other dignitaries were spotted at the event. Chakri (Music Director), Sampath Nandi (Director), Ramana Chary (IAS), Gazal Srinivas (Singer), Lagadapati Sreedhar (Producer), Seetharamanjaneyulu (IPS), Harshavardhan (Actor), Krishna Chaitanay (Actor), Naga Shourya (Actor), Kamal Kamaraju (Actor), Sreedhar Reddy (Director), Sirasri (Writer) were among the invitees.
Kalamandir Kalyan, CEO-Kalamandir, giving his note on the occasion said, "A thought of paying back to the society has lead to the initiation of this noble cause called 'Kalamandir Foundation'. Serving others and helping the needy gave us eternal delight. It was the greatest achievement we ever achieved. We have undertaken numerous initiatives in the areas of health, education and environment. Providing scholarships, organizing blood
donation camps, protesting against drugs, promoting green revolution and donations to charity are few among those initiatives carried over by the Foundation. It's my pleasure to share with you that our efforts and struggle for the good has been recognized in the form of 'Best CSR Practice Award', at Responsible Business Awards 2012. The response that we got from the people had stirred our insights to work more and accomplish further for the betterment of the society. I take this opportunity to thank media, volunteers and all the supporters of Kalamandir Foundation without which this would not have been the reality."
Initiative taken up by Kalamandir Foundation -
Society Welfare
Flood Relief initiative By Kalamandir – October 2009
Happy Hyderabad – A movement for peace & Prosperity – November 14,2010
Eye Donation Awareness Campaign – September 8,2011
Cowe Walkathon – 2011, 2012
Cowe Trade Carnival – 2011, 2012
Women Artist Group Show : "Femin Dissilience" – October 22,2011
Aids Eradication Awareness Campaign - December 1 2011
Bangalore Walk-A-Thon on the world Disable Day - December 10, 2011
7th International Children's Film Festival –January 9th to 13th, 2012
Foundation Day – Blood Donation Camp, Gifts Distribution to unprivileged Group – July 7,2011
Walk With A Hope : to Eradicate Child Lab our – 2012
Campaign on Election & vote drive - 2014
Merit Scholarship – 2013, 2014
Health
No More Smoking 5 K Run – June 5,2011
Walk 4 Heart – September 25,2010
Anti Drug Campaign – August 15,2011
Healthy Heart Cyclothon – September 25,2011
Tie up with Impact Hospital for Aid to cancer Patient – August,2011
Environment
World Environment Day :Saplings Distribution & Go Green Rally – June 5,2011
Swechha: Freedom From Polythene – July 17, 2011
Clay Ganesha- Eco-friendly Campaign - 2011, 2012, 2013
60+ earth hour – 2012, 2013, 2014