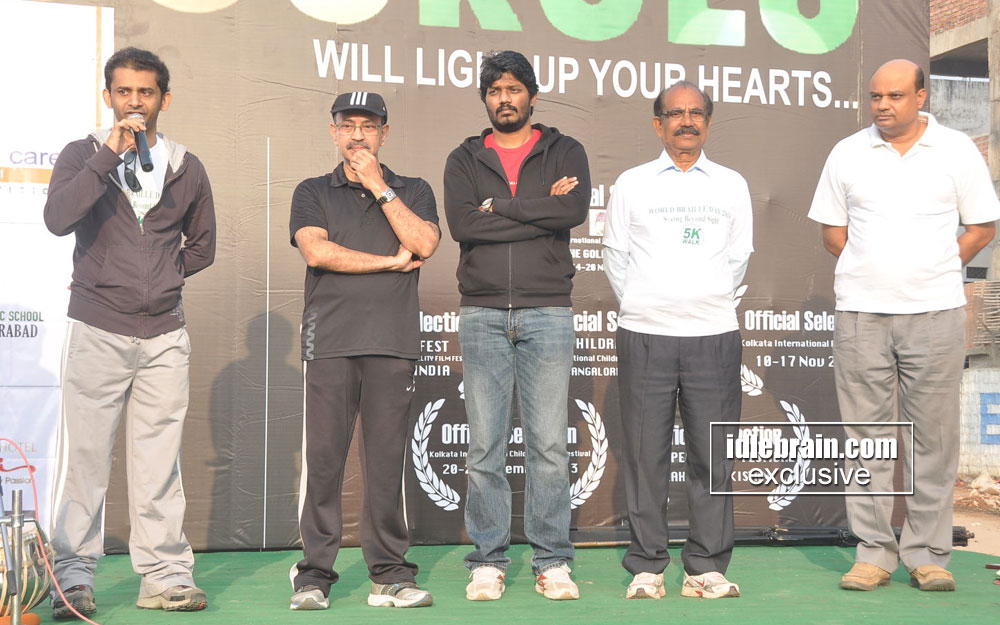 06 January 2014
Hyderabad
On the occasion of World Braille Day, Ayodhyakumar Krishnamsetty director/producer of the Telugu movie MINUGURULU (A MOVIE ON THE VISUALLY IMPAIRED) under Respect Creations has organized a 5K Walk on January 6th 2014 in support of the visually impaired community at Necklace Road. Orchestra was organized by the visually impaired students from Vishwa Dhruk foundation. A huge crowd participated in the walk with an overwhelming response.
The walk was flagged off by the chief guest, Gunnam Gangaraju garu. Other prominent participants are Gangadhar garu - managing trustee of COMMITMENTS, Secretary Telkar Baba of National Association for the Blind (NAB) , Vasan Eye Care Hyderabad group Vice President Dr. Pradeep Kumar garu and his entire team, Minugurulu Protagonist Master Deepak Saroj along with co-actor Srinivas Sai, STARS Founder and executive secretary K.Ajay Kumar garu, Chini Chini Asha director Dr. Kiran garu, Famous Numerologist Daivagna Sharma garu and many more to name.
To name a few colleges that have also participated in the walk are:
A.V Degree College, Domalguda
A.V. P.G College(Biotechnology Department), Domalguda
Kedia Degree College, Chaderghat
Bharat Degree College for Women, Kachiguda
St. Mary's Degree College, Yousufguda
Indira Priyadarshini Govt Degree College for Women, Nampally
Govt Degree College for Women, Begumpet
St. Pious Degree College for Women, Nacharam
Vivek Vardhani Degree College, Jambagh.
The purpose of the walk is mainly to bring awareness about visually impaired challenges in their day to day life - concludes Ayodhyakumar Krishnamsetty, director/producer of the film Minugurulu.