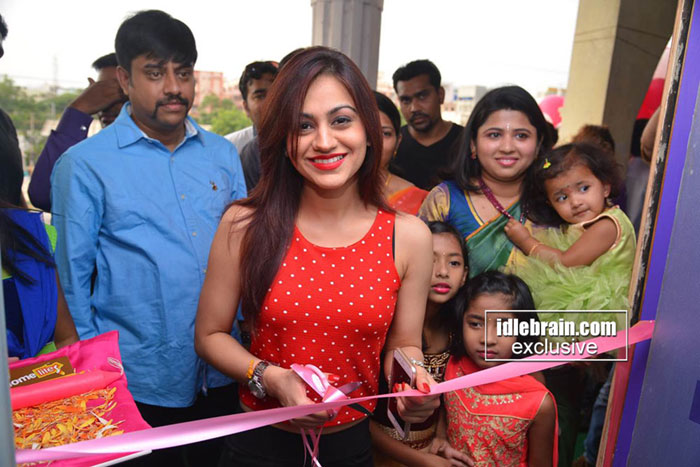 09 May 2015
Hyderabad
Naturals, India's No.1 unisex hair and beauty salon, launched their 1st Naturals-W in Kalyan Tulasi Ram Chambers, at Madinaguda, Hyderabad. Inaugurated by South Indian Actress Aksha Pardasany by lighting traditional lamp. Its 61st salon for the region of AP and Telangana.
"It's glad to Launch with unique concept Naturals-W in the world of beauty salons designed especially for women" Said, Actress Aksha. Beauty salons and spas play an important role in lending that glamorous touch to every one life style" she added.
"The beauty salon caters specifically to women and all services are handled by female professionals, Located in the plush Madinaguda, the women's salon & bridal studio is spread across 1100 square feet. The salon boasts of a lush bridal room, cozy facial rooms, spa with steam & shower, 2 pedi-spas and 3 cutting stations" said, Naturals W, Franchise Partner Ms. Ragini Ravipati.
"We are committed to quality & unique beauty needs, reasonable pricing, hygiene and customer satisfaction are the traits that distinguish Naturals as the best in the beauty industry.,"said Mr.Arvind, Regional Manager ,Naturals - Andhra Pradesh and Telangana.
Speaking on this occasion Mr. C.K Kumaravel, CEO & co-founder, Naturals said, "We started Naturals to change not just the way people looked but to add ample positivity in their attitude to life! We want our customers to look and feel beautiful from inside out. I am extremely happy that we have successfully launched our 1st Naturals W in Hyderabad marking our 61st salon in AP/Telangana.This state has immense potential for the beauty industry. We are optimistic that this year we will reach our target and expand our brand from 450+ salons to 600 salons".
With a strong team of trained staff, Naturals has become a name synonymous with hair and beauty care evoking confidence in millions. Natural's mission is empower women to create 1000 Successful Women Entrepreneurs & generate 50,000 Job Opportunities by 2018. Naturals promotes women entrepreneurs and provides them an opportunity to associate with the brand by owning a franchisee. These entrepreneurs are provided financial assistance through Axis Bank, Indian Overseas Bank and Bharatiya Mahila bank"he added.