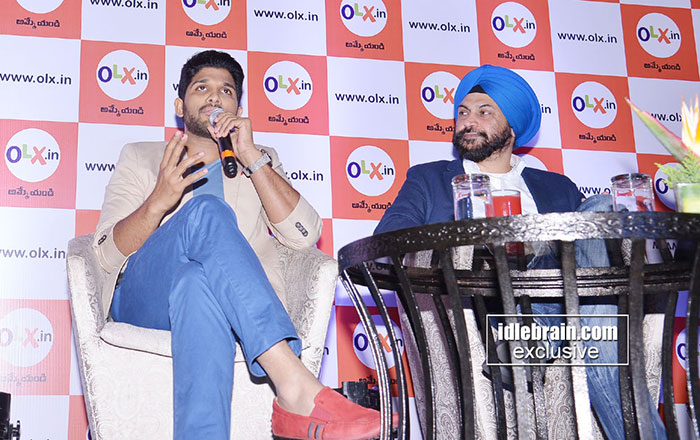 18 September 2014
Hyderabad
The Latest TVC from OLX features award winning Telugu actor Allu Arjun urging people to upgrade using the OLX mobile App
India's number one marketplace for used goods, unvelied a new TVC with Film fare Award winning actor Allu Arjun. The TVC that is in Telugu will go on air in Andhrapradesh and Telangana on September 19th. The Ad depicts the actor in a romantic comical role emphasizing that selling used goods helps people upgrade to products of their choice easily. The TVC also communicates the benefits of the OLX mobile App.
Said Amarjit Batra, CEO, OLX.in, "we are a people's platform,and our presence cuts across cities,languages,and cultures. We have received a lot of love and appreciation from our users in Andhra Pradesh and Telangana, and this TVC will help strengthen the bond we share with them. Allu Arjun is a young, energetic, and a renowned actor, and we felt that his personally blended very well with that of OLX, which is a very young brand itself. TVC focusses on the message of 'upgrade' and the ease of the OLX mobile App. Everyone has a phone these days, and the OLX mobile App has empowered people by taking selling and buying to the tip of their fingertips. "
Eariler this year, OLX.in conducted the first ever used-goods survey in India called the OLX Consumer Research on used Goods and Selling Trends (CRUST). The survey highlighted that Hyderabad's contribution towards stocking used goods stood at 19% of the total volume stocked by urban India. Some of the most common things that Hyderabad is confessed to stocking included used home and kitchen appliances, mobile phones, clothing, books and watches.
"I am a big fan of mobile Apps. They make your life so much more fun and convenient. This TVC shows how easy it is to sell used things the OLX mobile App. Just download the App, and you can post your ad in three simple steps. The TVC is humorous yet gives a strong message. There are so many new and cool things to buy out there. Selling used stuff can give extra space and cash for those new things. If you want to upgrade easily, then you must sell frequently," said Allu Arjun.