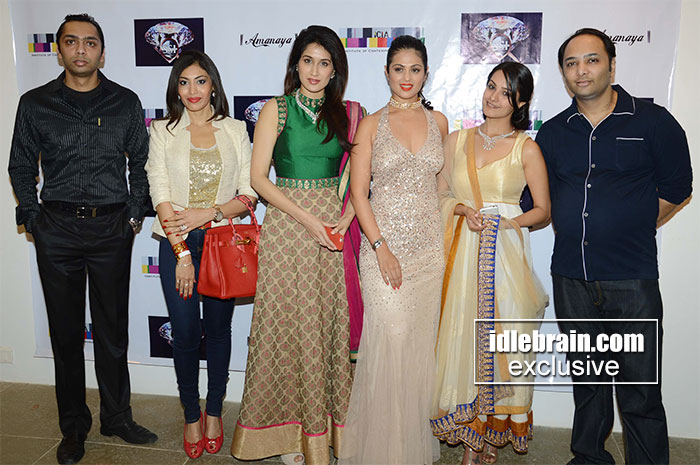 5 August 2013
Hyderabad
'Amanaya' – an exhibition showcasing original artworks of renowned artists including M F Hussian, S H Raza, F N Souza and others amalgamated with the reputed jewellery brand Sagar Samir International for presenting an indulgent evening to luxury lovers. On display were eight interesting artworks along with eleven pieces of eclectic jewellery at ICIA, Kala Ghoda.
The art meets fashion evening held over exotic wine and cheese drew the city's crème de la crème in hordes including celebrities like Sagarika Ghatge, Anjana Sukhani & Anita Hasnandani. An entertaining fashion show choreographed by Lovell Prabhu was held where well-known models sashayed down the ramp adorning beautifully crafted jewellery designs by Sagar Samir International and wardrobe by Jashn Sarees.
An elated Sagar Parikh of Sagar Samir International said, "We are extremely happy about our association with ICIA for hosting our spectacular jewellery show. We specialize in bridal and bespoke jewellery and the new designs unveiled are classic yet contemporary. Each piece is a personification of exclusivity. Our collection comprises of an array of necklaces and earrings, pendants, bracelets and bangles which are exquisite and eternal.
"Beauty director to various fashion weeks and the regional Femina Miss India paegents, Chandralekha Sanap has lent her expertise in make-up for all models part of this show.
About Sagar Samir International: Our Heritage in Business spans over 60 years. Sagar Samir International is a cluster of pioneering businesses that have forged a role in diamond trade over 60 years. Mr. Nitin R. Parikh the driving force behind the firm laid the foundation in 1966. Sagar Parikh and Ashish Parikh joined the family business and since then the company has expanded the Jewelry & diamond business in India. Being a family business, the new generation has great involvement in outperforming their own standards. Sagar Samir International deals into Jewelry Manufacturing and Diamond Trading. Diamond trading includes selling of Polished diamonds procured from direct sources from Belgium, Israel & FarEast. Company expanded into Jewelry business into Early Nineties mainly dealing into Diamond Studded Jewelry. Our unique offering in Jewelry includes Bridals. We also make customized Jewelry as per the specified requirement. We also specialize in latest trend as well as marketable designs of diamond studded Jewellery towards catering customers' needs of major markets. We at Sagar Samir International treasure the relationship with our clients for years, every member is always ready to serve customers to his total satisfaction with an aim to build a long term mutually beneficial relationship.
About ICIA: Institute of Contemporary Indian Art is one of India's largest grass root locations to exhibit art. Started in 2007 by the Safset group, ICIA spans over 3 floors. Given that there are hardly any museums in India, ICIA aims to exhibit Museum quality works for its viewers and the public.
About Jashn Sarees: India's fastest growing fashion brand, Jashn caters to the modern trendy high fashion seeking women's ethnic wardrobe, that includes Bridal Wear, Sarees, Salwar Kurti, Suits, Dress Materials, Shawls, Scarves, Tunics, Accessories etc. A women's lifestyle ethnic wear brand which is located in the best malls of India and has made its foray into the International market starting with Dubai and soon to launch a store in the Abu Dhabi.