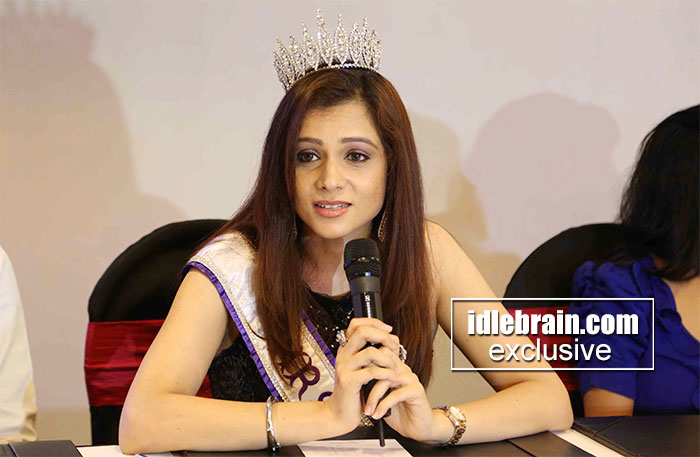 02 July 2013
Hyderabad
Mrs. India International-2013-Amita Piyush Motwani the recently crowned winner is now has her eyes set on the coveted title of Mrs.International-2013. The Contest which will feature woman from almost all the countries of the world competing to make a mark of their country and their name.
Amita Piyush Motwani-A visionary, caring mother, adoring housewife and a professional psychologist has always been an achiever right from her school days, Amita who has successfully won many pageants in India and abroad. Amita had always been the first to take art in any kind of social-philanthropic work across the country, she has been a part of many NGO's in Hyderabad were she had conducted psychological sessions to people ailing from different diseases.
Looking forward to Mrs International-2013, Amita Piyush Motwani says that this title is something which I had my eyes set on, she added that she is confident of performing well at this international level where she will be competing against the best of the best from various countries. Amita says that the credit goes to her husband and in-laws who have always been a pillar of support for her, she recalls the moment when her husband crowned her Mrs. India International as her most memorable moment of her life. Amita who is extremely passionate in teaching the real social and official ethics wants to set-up a finishing school in Hyderabad, were she will share her international experience with the budding starlets of country, apart from finishing school Amita plans to involve herself more into philanthropic activities were she can help the ailing with her skills of psychological counseling, she added that being a consultant psychologist I always wanted to help people come out of their fear and prove their mettle to the country, as I personally believe that India is one of the most Talented country and its just the psychological and social barrier which hinders the talents to come up.
She expressed her gratitude to the current team of designers and sponsors for Mrs. International 2013, she conveyed her thanks to Priyanka Chigurupati of Chigutupati's creations for creating Gorgeous Outfits. She also thanked Trisa Jewellery of Somajiguda, Hyderabad for sponsoring her Jewellery for the second consecutive pageant.