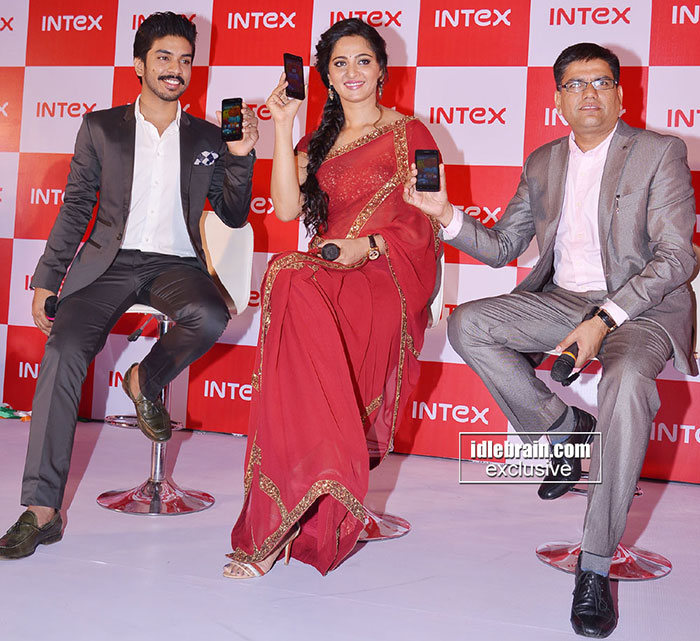 16 August 2014
Hyderabad
In an endeavor to make a strong presence in South India, Intex Technologies, one of the fastest growing mobile phone company in India has roped in Tollywood actress Anushka Shetty as its Brand Ambassador for South India. The leading actress launched Aqua Style Pro, the new aqua range in a glittering event today.
The Tollywood sensation has been signed for 1 year. During this period, Ansuhka will be seen in the company's television commercials besides being the face of the company on a series of brand activations.
"It is a pleasure to be associated with Intex Technologies, a brand that is committed to delivering stylish & best-in-class products to its customers at an attractive price without compromising on its superiority. I am glad to be on board with Intex Technologies," said Anushka Shetty
Talking about the launch, Keshav Bansal, Director Marketing, Intex Technologies said, "Anushka is one of the finest actors who personifies style and elegance. She was our first choice and am glad that today we are sharing the stage with her. The association is a step towards establishing a huge connect with our regional audiences."
Speaking on the focus of the brand, Keshav said that, "After tasting success in other centers, Intex will now be focusing aggressively on establishing the brand in South India. Today, it's not just about a good product, customers look for celebrity quotient. Our association with Anushka will help us stand apart in the competitive market."
Commenting on the launch, Sanjay Kumar Kalirona, Senior General Manager– Mobile Business, Intex Technologies (India) Ltd. said, "The Aqua range is very popular amongst our target audience. The range stands for style and quality at affordable price points. Our focus will be on South India going forward, a market that is unique in its own way. Here, the mobile users are more informed and glued to technology. With Aqua Style range, we endeavor to provide them advanced technology at economical rates. We hope the customers like our products."
The all new Aqua Style Pro from the new aqua range has crystal clear display and the capability to delight users by offering them an ultra-realistic visual experience. Equipped with 1.2 GHz Quad core processor, the smartphone has an 8 MP rear camera and 2 MP front camera with advanced picture quality.
Boasting its dual-sim capabilities, the phone supports Bluetooth 4.0 and Wi-Fi, ensuring full time connectivity for the social media buffs. The phone has dedicated 1 GM RAM & 4GB of inbuilt memory that is expandable up to 32GB and is equipped with four sensors - Light Sensor, Magnetic Sensor, Proximity Sensor, G sensor.
Available in two premium colors - White & Black and also with a free flip cover at a MOP of INR 6990/- the phone can easily be purchased from Intex retail stores, hypermarkets and leading e-commerce portals across India to match the convenient purchasing pattern of today's customer.