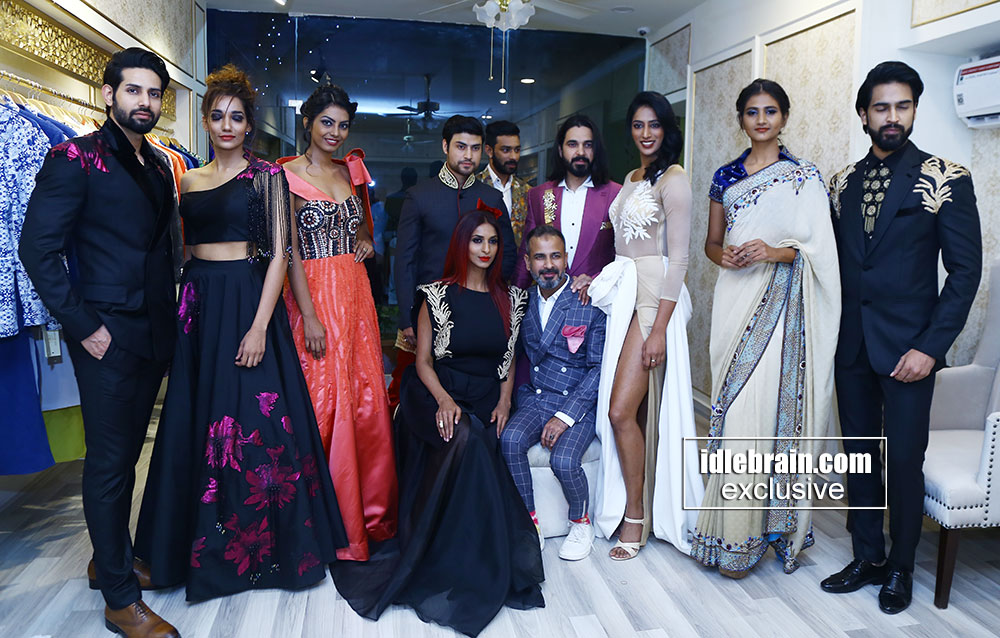 26 December 2017
Hyderabad
Super Model and Actress Sandhya Shetty, Nayaan Chowdhary, Shahnawaz Alam, Abhishek Chaini, Hitesh Bajaj and other feted models walked with pomp and grace to showcase fashion designer Asif Merchants new line of Christmas Season Clothing at the in-store fashion walk.
Internationally acknowledged fashion designer Asif Merchant opened his first all fashion couture store 'Asif Merchant' in Jubilee Hills today. A beautifully created fashion shopping boutique – it is conceptualised as a go-to-destination store for classy men's and women's wear, with menu of unique fashion pieces that reflects the aspirations of every occasion shoppers. The Hyderabad store will be Asif Merchant's 3rd Store following Mumbai and Dubai.
"It's an exciting day in my life as I unbolt my debut fashion boutique in this fashion forward city," Asif Merchant said. What I aim through my collections, are not just creating beautiful aspirations, but also 'surprise' element that draws your heart to it. For me it was not just architecting a beautiful boutique, but a promise of 'Freshness' our customers can fall in love with every time they step into this global appeal store. It's all about what you love to imagine and wear them with coolness season after season."
Super model & Actress Sandhya Shetty, Shahnawaz Alam, Nayaan Choudhry, Abhishek Chaini, Hitesh Bajaj flanked by other fêted models walked in Asif's latest design that left the audience beyond words. The store was a testament to the idea and what shopper can expect. The fashion show had a line up of black, white, golden, silver clothing for women and for men black, grey, checks and stripes with light bling that set the right tone for Christmas fashion festivity.
While the women wear had Designer Asif's touch of his fusion bridal couture including every occasion wear, for the men showed a theme of bandhej wherein organic cotton was used for destructive shirts n drape dogra pants with different bandhej dyes of Gujarat and Rajasthan with ivory as a prime based color with diff bright color on each shirt. The collection also included a line up of men's clothing who wana experiment with their tux n suits for Wedding giving it some edgy look with 3D gold embellishment on Jackets with metal accessories like bow tie. Pocket square and tie alongside pins of gold metal.
"Hyderabad is a global city, and I wanted to show that vibrancy in abundance. You will feel this in every corner of this store and in our fashion presentations. Even objects around are in perfect harmony with each other, adds Asif.
Label 'Asif Merchant' has grown consistently and has an established customer base in India, Dubai and other parts of the world. When Asif Merchant puts his name you know it's going to be good -that's the expression clients give when they reach out for his clothing and for personalised styling wishes.
So what can you expect in the Hyderabad Store? Right now the store will offer Party wear, beach wear, suits, casuals, skirts and suits. What's unique is that the store will reflect every season and the mood around it.
About Asif Merchant : Asif Merchant internationally acknowledged for his fusion bridal couture line and styling acumen ship, he plunged into fashion vanguard more than 2 decades ago. He was a merchandiser for an Italian Fashion House that caters to iconic brands like Armani and Versace.
Asif launched his label in 1995 and his collections never failed to stir harried fashion editors or fashion conscious clients. Since then there was no looking back.
He styled bollywood films when he was not showcasing his collections in London, Paris, Rome, Mauritius, Dubai, Belgium, Dhaka, Spain, Basel, Kazakhstan, Amsterdam and in India.
Asif has been styling for key catalogues for fashion brands and fashion shows. He has also won awards like 'Best Styled Campaign of the Year' for Roopkala brand.
His ensembles continue to show up on the red carpet by many celebrities including Priyanka Chopra, Mugda Godse, Prachi Desai, Terence Lewis, Vishal Singh, Shakti Arora, Raisinghani and Hiten Tejwani.