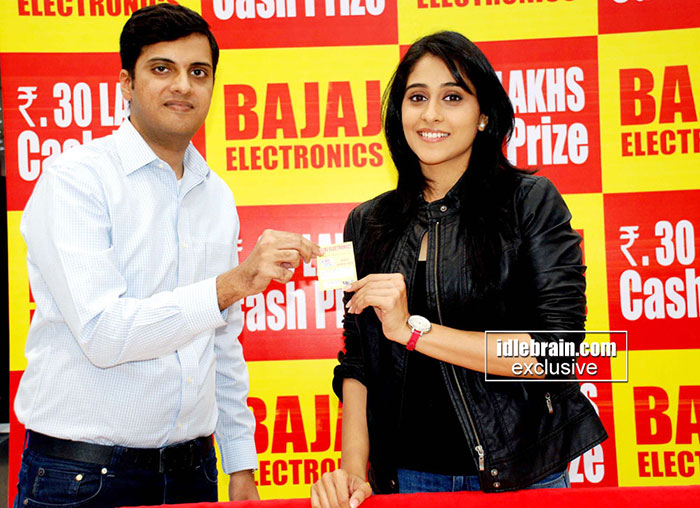 10 November 2014
Hyderabad
BAJAJ ELECTRONICS HYDERABAD'S MOST PREFERRED BRAND FOR ELECTRONICS PRESENTS BUMPER DRAW OF RUPEES 30 LAKH CASH PRIZE

CASH PRIZES WORTH RS.1 CRORE ARE UP FOR GRAB THIS FESTIVE SEASON.

WASEEM UNNISA OF CHARMINAR WITH COUPON NUMBER 096210-WON RUPEES 30 LAKHS
AT THE BUMPER DRAW ANNOUNCED BY ACTRESS REGINA CASSANDRA AT BUMPER DRAW HELD AT BAJAJ ELECTRONICS, FORUM MALL, KPHB
Bajaj Electronics-the electronic store which has always been unique and exceptional with their service, quality and delivery is the Hyderabad's most preferred brand for electronics.
Bajaj Electronics – which has whopping 17 stores across twin cities has carved a niche of itself in terms of customer service and exceptional offers, today Bajaj Electronic has become a household brand and has given an access to Luxury of electronics to the masses. The Rs. 1/- per any electronic scheme has been a great hit among denizens of twin cities. Apart from schemes the festive offers, discounts, exceptional delivery and great finance schemes has resulted in the brand Bajaj Electronics opening up 17 outlets across twin cities and has plans to expand more..
Bajaj Electronics today organised its much awaited BUMPER DRAW of RUPEES 30 LAKH CASH PRIZE at BAJAJ ELECTRONICS SHOWROOM, FORUM MALL, KPHB- BAJAJ ELECTRONICS SHOWROOM AT FORUM MALL IS INDIA'S LARGEST STANDALONE SHOWROOM IN A MALL SPREAD ACROSS 20,000SFT
The event saw the presence of FAMOUS CINE ACTRESS REGINA CASSANDRA picking up the draw for the Lucky Draw Winners. Waseem Unnisa with Token Number-096210 from Charminar won rupees 30 Lakhs at the bumper draw.
On the occasion of Bumper Draw of Rs.30 Lakhs cash prize -Director Bajaj Electronics Mr. Karan Bajaj said that the response has been enormous and thanked the customers for shopping at Bajaj Electronics and keeping their trust with them. He said that the prize is a token of thanks from Bajaj Electronics to its customers; he congratulated the winners of Rs. 30 Lakhs on behalf of whole team of Bajaj Electronics, he added that Cash Prizes worth Rupees One Crore is up for Grab this Season-Bumper Lucky Draw of Rs.50 Lakh Cash Prize will be held soon.
The Most preferred electronic house "Bajaj Electronics" has more offers down the line. Bajaj Electronic offers various discounts and packages to its customers through out the year, this shopper friendly outlets has a distinctive distinction of achieving 100% customer satisfaction.