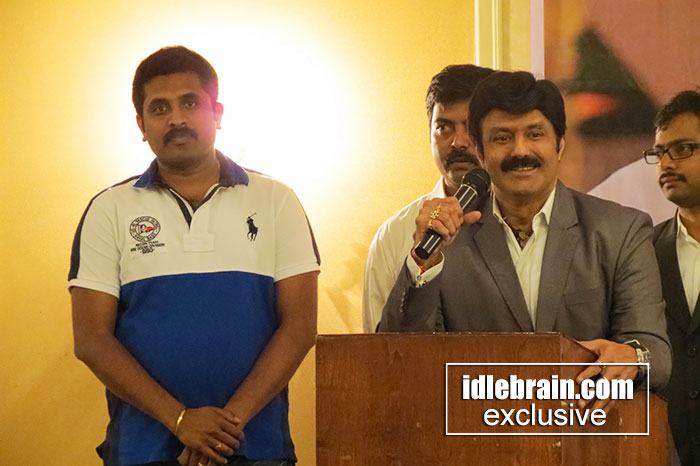 06 July 2013
Hyderabad
Nandamuri Nata Simham Balayya babu received grand welcome and warm reception from Connecticut Telugu Community on his arrival to participate in Fund Raising event at Hills Point Hotel Banquet Hall, Windsor Locks, CT organized by India Kitchen to support Basavatarakam Indo American Cancer Hospital. The fund rising event got overwhelming support from the Connecticut telugu community. Within no time fans collected $60,000 to support the noble cause. The fund raising event was a grand success with 450 people attending the event. All fans were entralled seeing Balayya and the whole event was grand success with no hiccups. Balayya addressed the crowd and explained in great detail about the progress of hospital right from its inception, mentioned the status of the ongoing initiatives and upgrades to the facilities and equipment in the hospital. He listed out hospital's goals and the projects in the pipeline. He also explained how Basvatharakam Cancer Institute became first in the country to have both research and hospital facilities. Balakrishna mentioned how the Institute is conducting research to provide low cost medications to the poor. He also mentioned that they are planning to start satellite hospitals in other parts of the state like Vijayawada, Vishakapatnam, Nizamabad and Ananthapur. His inspiring and thoughtful speech drew tremendous response from the attendees and people actively stepped in and showered their support by donating in large numbers for the cause. He appreciated the generous support by Telugu NRIs. Bala Krishna thanked the event organizers fans and entire telugu community for their support towards the noble cause. On the request of fans Balayya uttered few dialogues which were received by fans with whistles and claps. All the donors received momentos and had dinner with Balakrishna.
Dr.Tulasi Polavarapu garu and Dr.Raghava Rao Polavarapu garu addressed the gathering and appreciated the donors for their participation.
There was electrifying atmosphere at the Venue amidst Fans uttering 'Jai Balayya Jai jai Balayya' resounding the banquet hall.Balayya patiently posed for the pictures with fans, and next day Balayya attended Thank you lunch with all the organizers at India Kitchen restaurent.