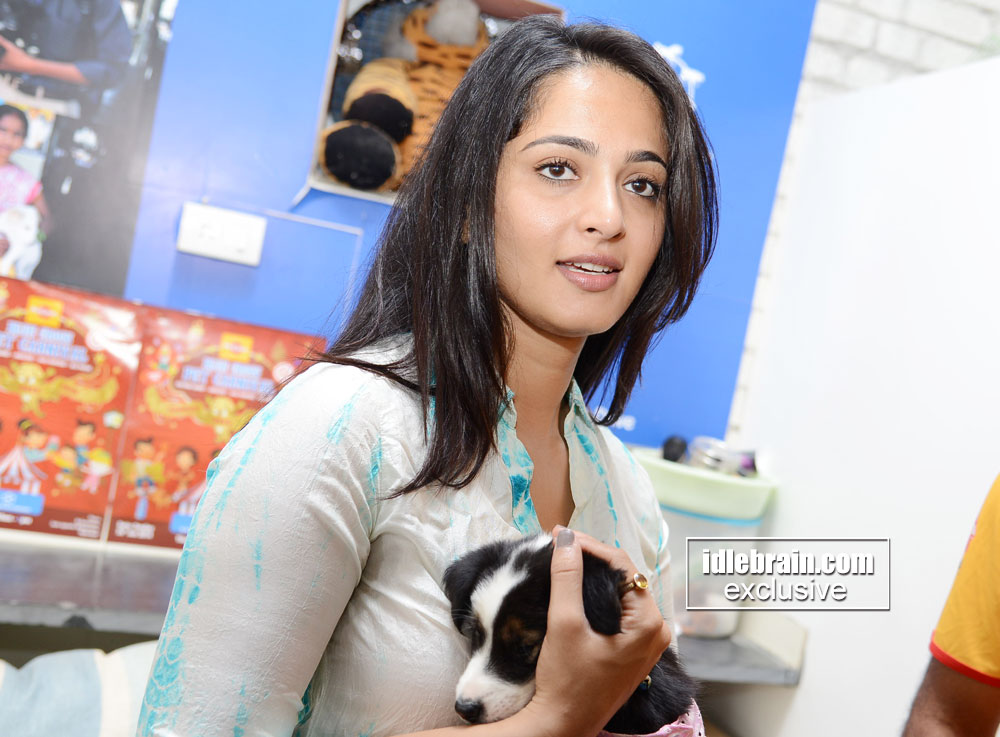 24 January 2014
Hyderabad
Pedigree®, world's leading pet food manufacturer and Blue Cross of Hyderabad, a voluntary organization for welfare of animals are all set to organize a fun-filled Pet Carnival for the people of the city of Nawabs, to be held on January 26, 2014 at N-Convention centre, Hyderabad. The event will commemorate the kin-like relationship between humans and pets and is an opportunity for the pet parents to spend a fun day celebrating their special bond.
Ms. Anushka Shetty, renowned actor addressed the guests saying "I am an ardent pet lover and have been associated with Blue Cross society for a long time. Pets bring playfulness and a sense of wonder to our lives. They are truly our best friends in every sense. They keep us fit and lively and always bring joy to our tedious lives. I congratulate Pedigree and Blue Cross society to organize such a fest for pet lovers of the city and for providing an opportunity to those who wish to adopt one."

Highlights:
Face painting/ Balloon artists/ Jugglers/ Stilt walkers/ Magic show
Well groomed dog/ Best Fetcher/ Most obedient dog
Walk the ramp with your pet
Maize game to show bonding between Pets and their parents
Blue Cross Adoption Camp- Adopt a four-legged friend
Grooming tips/ Training tip/ Funny Videos
With a host of exciting activities lined up for pet owners and pets, this initiative will aim at raising awareness about Pet Care amongst the public at large while bringing pet owners closer to their pets. The event is open for all and will witness loads of fun activities like Face painting, Pet and Pet parent Look-alike competition where pet parents have to dress up their pets just like themselves, Performance by leading dog training agency- Commando Kennels and Free Health check-up for pooches.
"It's a great way to meet pet owners and furry friends alike and for some, the perfect place to find an adoptable pet", said Ms. Vasanthi Vadi, Co-founder of Blue Cross of Hyderabad. This Pet Carnival will prove to be a useful platform for all the pet lovers to connect, and to find homes for hundreds of puppies and kittens. With the cooperation of Mars International India Pvt. Ltd. we wish to educate pet parents on every aspect of pet care alongwith a number of fun activities for their families and pets. Adoption will be free, and a vet on call will ensure the puppies and kittens get a check before they are taken home" she added.
With the vision of making the world a better place for pets by providing them leading nutrition, Mr. Ajay Iyer, Head-Marketing, MARS International India Pvt. Ltd. added, "Every one of us needs outing and refreshments at certain intervals and so do our canine friends. Pedigree alongwith Blue Cross is helping this cause, by advising the adopting families on animal care, and providing the right food for the puppies to help families get started on this beautiful relationship."
About Pedigree®
Pedigree is a globally established Pet care brand, manufactured and marketed in India by Mars International India Pvt. Ltd. The Pedigree range of Dog Food is manufactured at the state of the art factory at Hyderabad. Every Pedigree dog food product surpasses requirements laid down by AAFCO/National Research Council 2006. Pedigree is synonymous with care for pets and everything Pedigree does is for the love of dogs. It is this commitment to pets and pet care that makes Pedigree look for ways to make their lives better.
About Blue Cross
Blue Cross of Hyderabad is a voluntary organisation that works for the welfare of animals in Hyderabad, India. Founded in 1992 by film stars Nagarjuna & Amala Akkineni and supported by animal friendly people, Blue Cross has extended help to over 300,000 sick, injured and abused animals and birds till date. The Organisation was registered as a Society in 1993, and is recognized by the Animal Welfare Board of India.