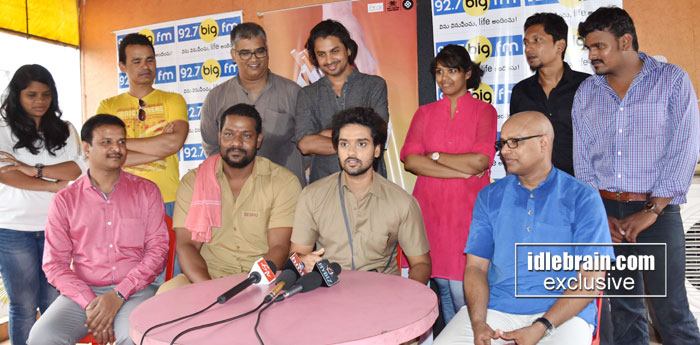 2 June 2016
Hyderabad
India's most popular and No. 1 Radio Network, 92.7 BIG FM has always been on the forefront of various ground-breaking initiatives. For World No Tobacco Day, 92.7 BIG FM had geared up and initiated a distinctive campaign –'Dhammu Untey Dhammu maney, season-2'. In a bid to create awareness about the dangers of smoking and consuming tobacco and celebrate the decisions of those who want to kick the habit. Sensational Star Sampoornesh Babu who recently held up smoking supported the cause and encouraged the participants. He also gratified the winner who left smoking on this realty show.
Dr. Sunil Kumar, President, Foundation for oral cancer has constantly counseled the participants and encouraged them. Foundation for oral cancer is partner for the event.
For the first time in the history of FM radio, 92.7 BIG FM through a radio reality challenge, 'Dhammu Untey Dhammu Odiley', has shortlisted contestants on the basis of their life journey, stories of why they started smoking and why they have decided to quit. Three contestants with the most motivational responses across have been selected to take part in one of the most gut-wrenching four day contest from May 31th to June 03rd. However, just kicking the habit is not enough as BIG FM challenges participants by first proving if they can quit for at least 72 hours. Over a span of four days, BIG FM had monitored participants 24/7 under the supervision of experts, doctors & Family members. Participants faced various challenges with real-time hourly updates on-air, thus tested their resolve to quit smoking or consuming tobacco.
"Odilesina vadey vijetha" is the message that BIG FM wants to promote through this radio reality challenge, courageous citizens who tested their willpower to kick the habit in front of the whole city and emerged as winners and inspired many on this occasion of world no smoking day.
The event was graced with guests "Hero Suman Ashwin and Baahubali fame kalakeya Prabhakar".
The shortlisted in their four day journey, RJs gave LIVE hourly updates about the on-going campaign and how the participants are holding up amidst the challenge. Moreover, friends and relatives across the country dialed to the radio network to offer their support to the contestants while celebrities, reformed smokers; renowned doctors are brought on-air to talk about the ill-effects of smoking and shared their experiences. The contestant who completed the challenge of living a three day life without smoking and consuming tobacco emerged as the final winner of the challenge.