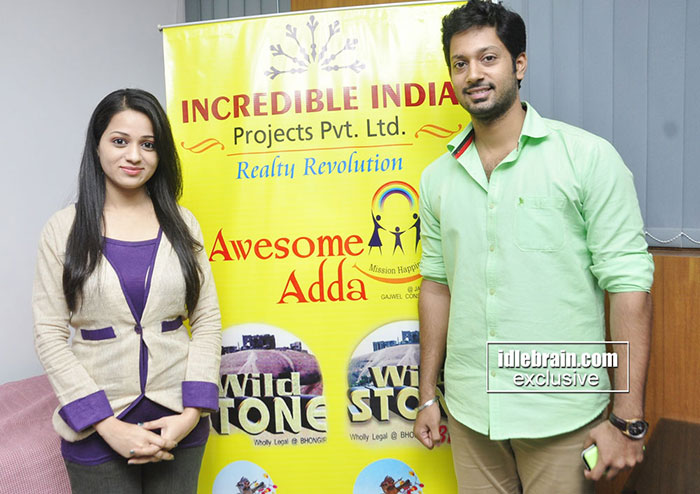 25 August 2014
Hyderabad
Inaugurated by Tollywood Celebrities Reshma Rathore, Rajith Menan
Over 500 employees donated blood
Hyderabad,August 2014:Incredible India Projects Private Limited (IIPPL)As a Part of Corporate Social Responsibility (CSR) activity organised 5th Annual Blood Donation Camp in association with Lions Club Vivekanandapuram 316c at Vasavi Towers, opp HDFC BANK, West Marredpally, Secunderabad. The Camp was Inaugurated by Tollywood Actress Reshma Rathore , Actor Rajith Menan by Lighting traditiona Lamp.The employees of Incredible India Projects Pvt Ltd (IIPPL) came in large numbers to support this noble initiative of blood donation , Over 500 employees donated blood.

"Every year the country requires about 5 Crore units of blood out of which only 40 to 50 Lakh units are being currently made available. There is no substitute for human blood and there is a need for 40,000 blood donations every day" Actress Reshma Rathore and Rajith said. Human is blood is a scarce resource and everyday it is becoming increasingly critical requirement owing to various casualties, a single donation can save lives of as many as three people'' they added.
"The Finest Gesture one can make is to save life by donating blood and it is our continuous effort to encourage the members of IIPPL to participate in the noble cause Every year and createing awareness in them" said Mr Praveen Kumar Nedungadi , (COO & Director) , Mr.Avtar Singh , (Director of IIPPL) thanked everyone for their participation. Shri V.T Vijay kumar , (Director of IIPPL) said "Company completes its 7 years of inception & to celebrate the same in a noble manner we conducted and annual blood donation camp. On the 27th approximately 300-500 Members of the Incredible India Team will be gathering at the People's Plaza, Necklace Road to handover a cheque of Rs.5,00,000/- towards "Ganga Prakshalan Foundation"they said.
About IIPPL :Incredible India Projects Private Limited is an ISO 9001:2008 certified land development concern which was incorporated under the Companies act, 1956 in 2007 with its registered office located at West Marredpally, Secunderabad . We are in the business of Real Estate ever since and have 4 successfully running ventures named Sparrow Shore at Mansanpally, Sparrow Shore Avenue at Kothur, Wild Stone and Wild Stone Brob at Bhongir. Awesome Adda at Jagadevpur (Gajwel Constituency) being the current & immensely successfully running venture. All our projects are draft approved by the competent authorities While working as a responsible corporate citizen, IIPPL augments the horizon of generosity in writing a better future for the weaker section of the society. Our numerous Blood Donation Campaigns, Education Awareness Programmes, Organ Donation Awareness Programmes, and events on Environmental Awareness have laid a strong foundation for the welfare of the underprivileged.d